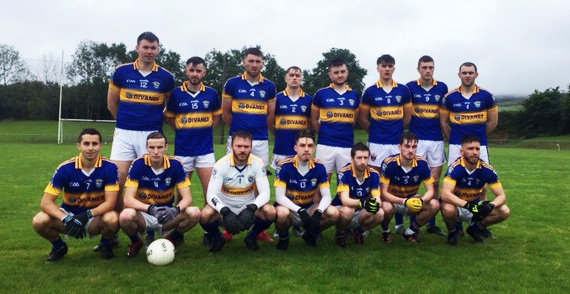 Cordal and near neighbours Scartaglen finished in stalemate with a final score of nine points apiece with a Brian Reidy free for Cordal leveling matters late on in the County Junior Football Championship at the weekend.

By: Tim O'Donoghue, Cordal PRO
Eddie Horan opened the game with a wonderful point in the second minute from 30 yards out.
A Philip O'Connor free leveled matters shortly after.
The first half was free ridden due to weather conditions and aggressive defending by both teams. Two Scart points from frees from Eddie Horan and one from Shay Walsh prompted a Cordal reply of  three Philip O'Connor frees and a TJ O'Connor free. This left the scores at 0-5 to 0-5 at half time.
Black Cards Yellow Cards and Red Cards
By no means a dirty game, the second half started with Tom Forde, Sean Horan, Mark O'Donoghue and Kieran O'Donoghue getting sin binned at different periods with Kieran and Sean getting second blacks near end of the game.
Fantastic Phillip Point
Back to the play: Philip O'Connor started second half with a fantastic point and then a free to put Cordal up 0-7 to 0-5 but two Shay Walsh frees and a point from the reintroduced Tom Forde made it  0-8 to 0-7 to Scartaglen.
Micheal Cahill brought on Sean Walsh who made a difference straight away scoring the best point of the game.
Sheehy and Walsh Starred for their Teams
But another Shay Walsh free looked like the winner for Scartaglen with five minutes to go. A Brian Reidy free after a Sean Walsh foul made it a draw at the final whistle.
Overall, a draw was a fair result with both clubs still in the reckoning.
Best for Cordal was Joe Sheehy while Shay Walsh stood out for Scartaglen.