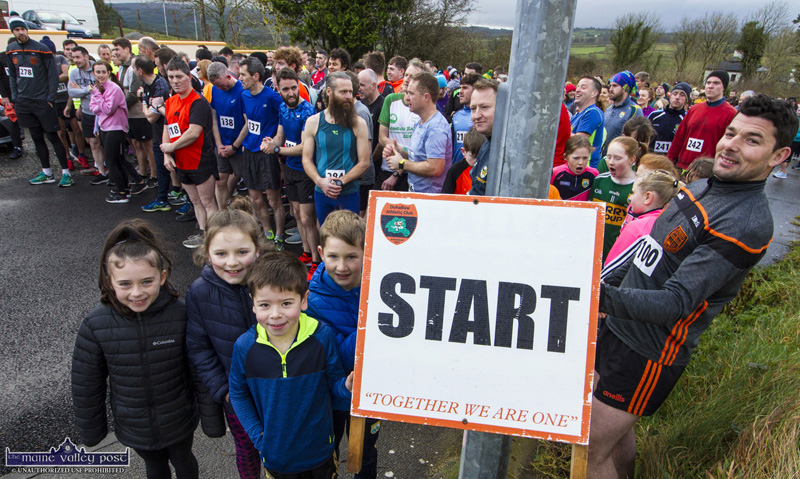 Kerrie Browne Memorial Run Raised €10,300

The Browne, Kiely and O'Sullivan families wish to thank everyone who contributed in so many ways to Kerrie's run on 5th January last. 
An impressive €10,300 was raised and is being shared among the organisations so close to her heart.
Special thanks to Noel Lane, Duhallow Running Club and Brosna GAA Club for the use of its facilities and providing stewards on the day.
Thanks also to: Conor McCarthy of The Kitchen Table for providing food; Vincent Murphy Sports for providing medals and Walsh Colour Print for the posters.
A sincere thanks to everyone who helped on the day and of course all who took part.  The families wish to acknowledge the support and generosity of Brosna and our neighbouring communities.  Thank you.
Condolences to the Bartlett, Guiney and Leahy Families
We wish to express our sympathy to the Guiney and Leahy families on the loss of Mrs. Bridget Guiney (nee Leahy) formerly of Reacashla.  Our thoughts are with her family and friends at this sad time.  
As well, we remember Harry Bartlett of Killarney, father to our parishioner Christina Bartlett and grandfather to Leah who passed away suddenly last week.  Our sympathies are with you all at this sad time.
Club GAA News Round Up
Brosna welcomed Ballymac to Pairc na Feile on Sunday 9th August for the conclusion of the first stages of the junior championship. 
It could well be described as a game of two halves – Brosna dominating the first half with ease and Ballymac capitalising on any opportunity in the second half to take the spoils.  Brosna's comfortable lead at half-time slipped through its fingers and Ballymac closed out the game winners.  Ballymac 2-16.  Brosna 2-10.
As both teams had won their first two games in this group, they are guaranteed a place in the next round. The Junior Championship Quarter final draws are taking place this week and Brosna wait to see who they are meeting next. All to play for.
Lotto is Coming Back
The Brosna Lotto will recommence on August 17th.
All individual tickets purchased since the lotto was suspended will be included in this first draw. Please note, any yearly lotto tickets whose renewal remains outstanding, will not be eligible for inclusion. Please renew your annual tickets as soon as possible.