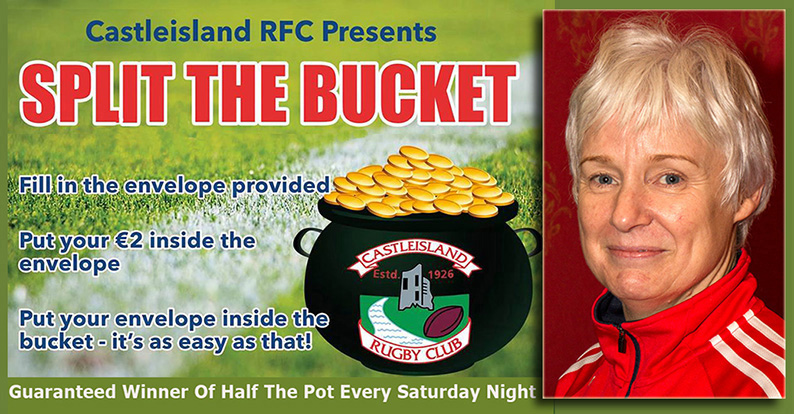 The winner of the Castleisland Rugby Club's Split the Bucket draw held in Nana Bea's Cafe on Saturday was Martina McCarthy, Castleisland. Martina won €832.
The next draw will be held in The Shoemaker Bar at 7pm Saturday, September 5th.
The Shoemaker Bar was the last public house to host the draw before the nationwide lock-down in March and the club's initiative was also launched there at the end of August 2018.
Another Thousandaire This Weekend
Commenting on her club's generous €1,000 or thousandaire gesture again for the coming weekend's draw, club secretary, Nóirín Uí Chathasaigh said that they felt so good about making Joan Cronin a thousandaire last week that they're going to do it again on Saturday night and bump the prize-money up to a guaranteed €1,000.
"We're doing this in appreciation of the support shown by retailers and the general public to the draw since it was launched," arsa Nóirín.
Buckets, Envelopes Available in….
The Castleisland AFC Split the Bucket buckets are available in the following places:
Anne Mac's Circle K; Browne's Agri Hardware; Castleisland Carpet Centre; Castlemeats; Centra; Chicken Club; Daly's Seafoods; Den Joe's; Diarmuid's Family Butchers; Eileen's Cafe; The Halfway Shop, Ballymac; Jackie Reidy's Menswear; Kieran's XL, Knocknagoshel; Kingdom Oil; Martin Curtin's Shop; McCarthy's Foodstore, Currow; Moloney's Cake Shop; MP Moran's ; Nana Bea's; Pat's Babrbers; Rhyno Mills; Sue Ryder's and Vincent Murphy Sports.
Play On-Line
Split the Bucket envelopes are available in the venues above throughout this and neighbouring parishes.
You simply put your €2 in the envelope, seal it and sign it and add your telephone number and pop it in the bucket or the club coloured, red and blue stand. And, Castleisland RFC has added the convenience of playing online for those who are into it and you can do so by Clicking on the link here:
https://app.superpayit.com/recurring-payment/initiate/iM16Pww/?fbclid=IwAR2o5cnHeUkab1aqHy1iSgQAnddRG8bd-Yp7VDStT1F-nZ6TR7nCPnMbgko