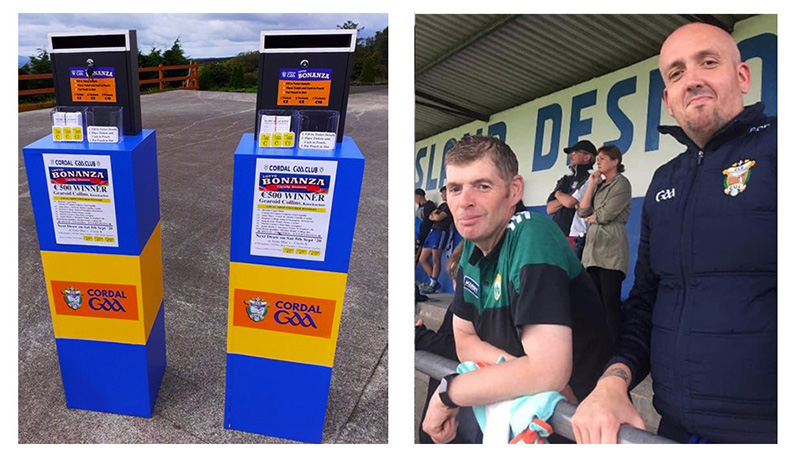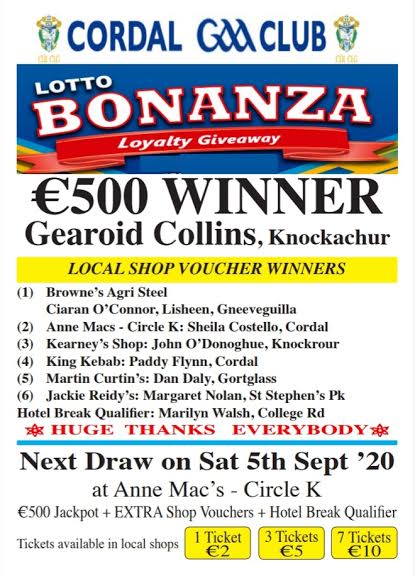 Bonanza Time: More €500 Draw and Vouchers Winners to Be Announced

Our next Bonanza draw will be held in Anne Macs this Saturday, September 7th.
You can enter the draw on-line by using the link https://www.lottoraiser.ie/Cordal/ or buying the tickets at any of the following businesses: Browne's Steel, Agri and Builders Providers; Jackie Reidy's Menswear; Kearney's Cordal; King Kebab; Martin Curtin's Shop; McGaley's Circle K; Diarmuid's Butchers and new outlets and shops joining soon.
Tickets are also available from club players and members.
Cordal V Scart Play-off – Big Match
The Kerry Petroleum Junior Football Championship play-off between Cordal and Scartaglin is on this Saturday, September 12th in Castleisland at 4pm.
This game will decide who plays Castlegregory in the next round.
B Team V Ballydonoghue This Friday Evening
Our B team will play Ballydonoghue b this Friday, September 6th at 6:30pm.
Unlucky Saints
Jimmy Keane's soldiers failed narrowly to champions East Kerry in the county championship. Hard luck to the local Cordal players involved.