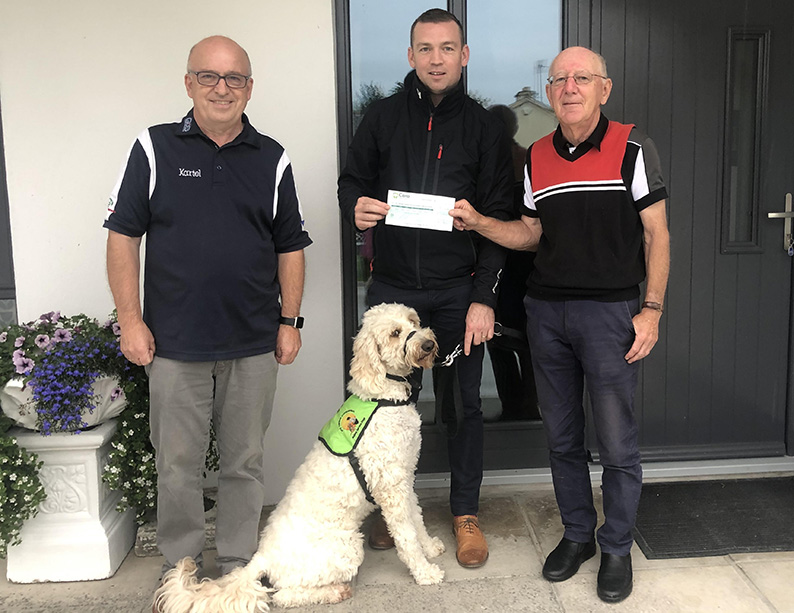 The group of Sunday night card players based at the River Island Hotel in Castleisland for the past decade or so had to call a halt to their shuffling, dealing and fundraising last March.
Like the rest of the country, at the time, their march was halted by the Covid-19 virus.
Because their gatherings are, necessarily, indoors they won't be resuming any time soon – as their spokesman, John O'Connell said this weekend.
My Canine Companion
"Since our card game will not return any time soon we have decided to distribute the money we had accumulated up to the time we had to call a halt.
"We presented Neilus Lyons with a cheque for €1,000 and he accepted on behalf of My Canine Companion," said Mr. O'Connell.
My Canine Companion is a national charity which was founded in June 2011.
The main purpose of the registered charity is to provide highly trained and skilled service dogs to people with disabilities and particularly to children with autism.
€500 Cheques to…….
"We also presented €500 each to the following recipients: The Kerry / Cork Health-link Bus; The Oncology Unit, University Hospital Kerry and Castleisland Day Care Centre
The latest cheque presentations by the players has driven their weekly contributions and donations ever closer to the €100,000 mark
Sunday Nights Since 1994
They meet every Sunday night at 9pm and they have been doing so since the early 1990s.
The group, which began its run of Sunday night games at Skevenas Bar in 1994 to 2007, has moved house several times since and has survived to raise and hand over thousands of Euros each year to the deserving charities.
River Island Facilities Free of Charge
They enjoy the hotel facilities free of charge and when they hit the figure of €5,000 they split it five ways and present a welcome bonus of €1,000 each to five local causes.
The presentations are made just before they sit to play on the nominated Sunday nights and representatives of the various charities are invited to attend.
Find out more about My Canine Companion with a Click on the Link here: http://www.mycaninecompanion.ie/