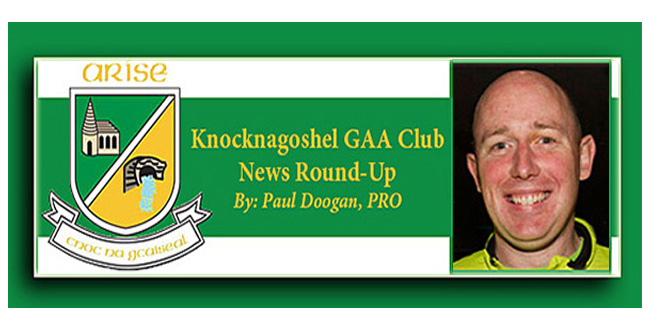 Last Minute Goal Drama as Knocknagoshel Grabs Victory over Moyvane
Moyvane and Knocknagoshel met in the first round of the North Kerry Championship on Sunday afternoon.  
Moyvane led 1-2 to no score after ten minutes with Niall Mulvihill getting the goal.
Knocknagoshel went on to kick four points in a row from Dylan Curtin, James Walsh (2) and an Edmond Walsh free.
Points Flowing
Two further points by each team left the score at half time at: Moyvane 1-4 Knocknagoshel 0-6.
Knocknagoshel scored the first five points of the second half with Kieran Downey, Edmond Walsh and Michael Keane all getting on the scoresheet.
Moyvane went on to score the next six points, including five in a row from Martin Stack to give the Moyvane men a two point lead going into injury time.
Last Minute Drama
However, there was to be late drama as in the fifth minute of injury time, Edmond Walsh floated a ball into the Moyvane goalmouth and this was flicked to the net by Kieran Downey. Final score Moyvane 1-10 Knocknagoshel 1-11
Lotto Goes Up an Extra €100 Notch to €10,100
The lotto draw for a jackpot of €10,000 was held in the Community Centre.  The numbers drawn were 14, 22, 28 and 29.  There was no winner of the €10,000 jackpot.  
The five lucky dips of €30 each were won by: Joe McAuliffe, Australia; Matt Mangan, Knockalougha; Catherine Doran, Brosna; Stephen O'Leary, Ballydesmond and Brendan Dowd, Mountcollins.
Next Draw on October 3rd.  
The next draw will be for a jackpot of €10,100 and will be held on Saturday 3rd October.
Tickets are available from: Kieran's XL and Hungry Ed's in Knocknagoshel; SuperValu in Abbeyfeale;  Diarmuid's Butchers; The Crown and Eileen's Bakery and Deli in Castleisland; The Creamery at Feale's Bridge and the usual sellers.
Our club lotto can also be played online by following the link on: www.knocknagoshel.gaa.ie