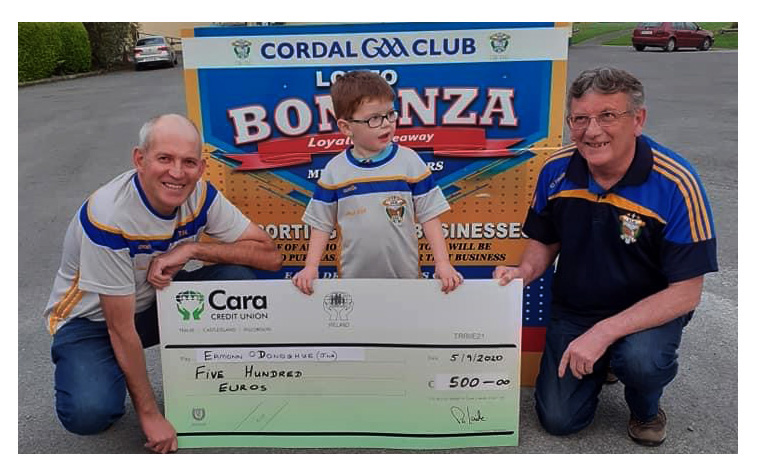 Island on the Live-Stream
A joint venture off the field but maybe not on the field with great news that the big game between Cordal and Scartaglen is being live-streamed. 
By Tim O'Donoghue, PRO
The game is on this Saturday at 4pm on the Cordal / Scartaglen GAA Facebook page.
Ballinard Bonanza Winner
A delighted winner, young Eamon O'Donoghue was the latest winner of Cordal GAA Club's fantastic Bonanza Lotto Draw which was held at Anne Mac's Circle K Service Station last Saturday, September 5th.
Sophie Nolan also from Ballinard was a voucher winner so the first cousins really had a bonanza time.Thanks to all the shops and sellers who are participating in this valued fundraiser for our club.
Congrats to All Our Winners
Congratulations to Eamonn O'Donoghue, Junior of Ballinard and Tobermaing. Eamon is the €500 winner of Cordal's second Bonanza Lotto Draw which took place at Anne Mac's Circle K on Saturday.
Well done too to all the following voucher winners: Kearney's Shop – Liz McCarthy, Limerick Road. Anne Macs – Circle K – Sophie Nolan, Cordal; Martin Curtin's Shop – Tommy O'Regan; King Kebab – Bernard Geaney, Killarney; Whyte's – Centra – Maurice Murphy, Tullig; Jackie Reidy's – Noranne Scollard, St. Stephen's Park; Phil Horan's – Jimmy Kearney, Glenlarhan; Hotel Break Qualifier – Jim Moynihan, Headley's Bridge.
Thanks to all the businesses for stocking our New Bonanza Draw Entry Boxes. We are glad that we can in some small way support your businesses through our voucher purchase scheme.
Public, Players and Club Members Thanked
Finally a huge thank you to all of you the general public out there for your continued support and a special thanks also to our players and club members for your support.
The next draw is on Saturday afternoon, September 19th at Jackie Reidy's Menswear, Castleisland with a €500 jackpot and extra shop vouchers and another hotel break qualifier.
You can also play the Cordal GAA Club Lotto Bonanza on-line with a click on the link here: https://www.lottoraiser.ie/Cordal/