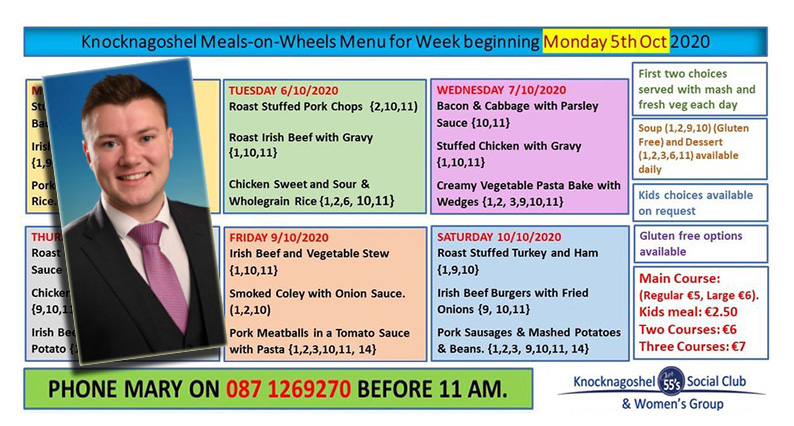 Cllr. Jackie Healy Rae has expressed his delight and welcome at seeing four Kerry groups receiving funding under the Covid-19 Stability Fund. 
The recipients include: Baile Mhuire – €42,962; Knocknagoshel Over 55s Club – €37,286; Caherdaniel Community Care – €5,254 and Cromane Community Council- €3,669.
Doing Fantastic Work
"These groups are doing fantastic work.
In my own constituency, the Knocknagoshel Over 55s Club members have really come to the fore with their Meals on Wheels Knocknagoshel.
"They're a credit to their community and county with the service they're providing and this money will help them and the other groups to continue their incredible work in such uncertain times," said Cllr. Healy Rae.
Knocknagoshel Meals on Wheels
Knocknagoshel Meals on Wheels is a voluntary group providing services for older people in Knocknagoshel since 1994 from the local community centre.
Since the outbreak of Covid-19, they have closed their social club and concentrated their efforts on supporting the community to self isolate.
Six Days a Week
The service delivers hot meals six days per week to clients homes. They also collect and return laundry which is washed in the community laundry in the centre.
They deliver groceries and prescriptions also. At present the service covers an area from Rahee Church to Mountcollins and from Athea to Cordal and the area is expanding daily.
Make Contact With the Service
Phone Mary on 0871269270 with your Eircode and make arrangement to receive a hot main course for €5 or a three-course meal for €7.
There is also have a phone support service which provides a listening ear and advice for older people who may be lonely or confused.
Phone Mary on the number above to contact this service.
They urge people to share their Facebook page to help support the community through this crisis.