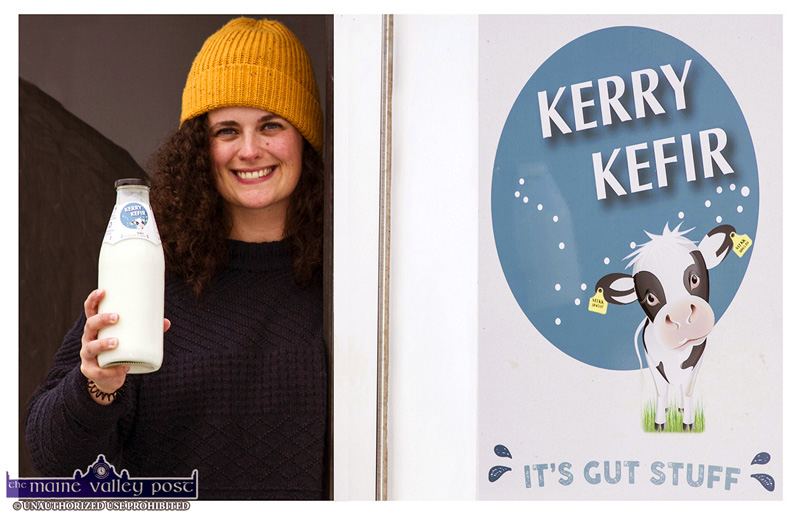 Last Saturday will probably prove to be a gold star day for a Castleisland woman whose gut instinct healed her own recurring digestive issues before going on the make a business from the cure she discovered.
Shortly after noon on Saturday, Mary-Thea Brosnan, of Tralee Road, heard that she had won the Blas na hÉireann Gold Medal for her product 'Kerry Kefir' in the Dairy Milk 'Other' category.
The good news kept on coming and later in the day came the award for Ireland's Best Start-Up Business.
Blas na hÉireann
Blas na hÉireann celebrates and rewards the very best tasting Irish food and drink products and the passionate, driven producers who make it.
Having suffered from digestive issues for years, Mary-Thea was prescribed tablets to be taken before every meal for the rest of her life.
She spent years looking to help her symptoms through diet until a nutritionist advocated milk kefir, a fermented milk beverage packed full of beneficial bacteria and yeast for your gut health.
Improvements Within a Week
She sourced kefir grains and started making it herself. Within a week, the kefir had made a huge difference to her symptoms and she told everyone about the transformation.
She noticed that none of the milk kefirs on the market were made in the traditional way using kefir grains but were instead using powdered, lab-manufactured cultures.
Mary-Thea decided to create a premium product using the living organisms to produce the most natural form of milk kefir as it was traditionally made.
Back to The Island in 2018
After 14 years living in Dublin, she moved home to Castleisland in October 2018 to start Kerry Kefir.
She continued to work part-time as an Optometrist before seeing the opportunity and going full-time with Kerry Kefir in January of this year.
She starting the company in her parents, Sheilagh's and Timmy's kitchen and soon moved to a specially converted truck container behind the house – and it was there she received the good news from Blas na hÉireann on Saturday.
Available Almost Countywide
Mary-Thea initially sold her product directly to customers in the Castleisland area it is now stocked in five SuperValu stores in Kerry including: Garvey's SuperValu, Castleisland; Garvey's SuperValu, Listowel; Garvey's SuperValu, Tralee; Garvey's SuperValu, Dingle; Keane's SuperValu, Killorglin; Mike's Fruit & Veg, Tralee; The Little Cheese Shop, Tralee and Broderick's Pharmacy, Listowel.
Delighted with Awards
Greeting Saturday's news with delight, her plans for the future include a larger production facility, increasing output and hiring staff.
While the word Kefir (feel good) is of Turkish origins, there might also be a hint of a tilt at the German market in the new company's slogan: 'It's Gut Stuff.'
The innovative and now double award winning, Mary-Thea Brosnan can be contacted on: 087 94 43 760 or see her website: www.kerrykefir.com

You can contact The Maine Valley Post on…Anyone in The Maine Valley Post catchment area who would like to send us news and captioned photographs for inclusion can send them to: jreidy@mainevalleypost.com
Queries about advertising and any other matters regarding The Maine Valley Post can also be sent to that address or just ring: 087 23 59 467.