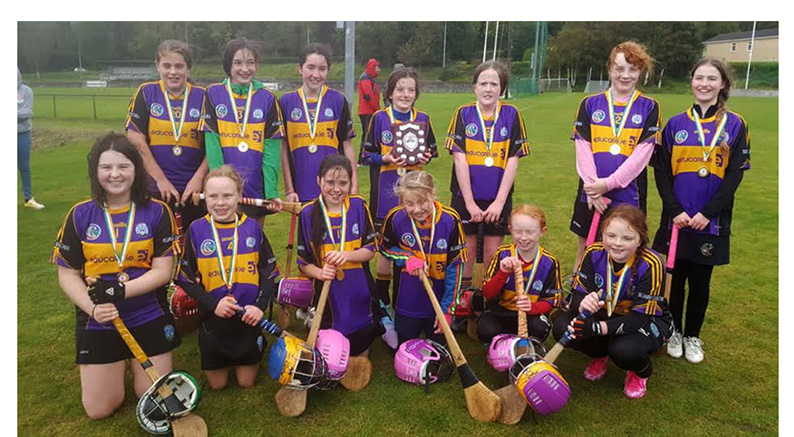 The Sliabh Luachra Camogie Club U-12 team won the County B League title by defeating Tralee Parnells in the final in Spa, Killarney on Sunday afternoon.
The Castleisland based team defeated Parnells in an earlier round of the competition and were expecting a much tougher game on Sunday.
They prepared accordingly with some detailed coaching on blocking and tackling from members of their experienced backroom team including club founder, Anne Walsh and the unrelated, Leo Walsh.
The Clash of the Ash
The clash of ash reverberated up and down Limerick Road from Castleisland Desmonds GAA Club headquarters at Moanmore in the lead up to the final as preparations were stepped up.
"To have the U-12 B County League in the club is a great finish to our season and it's a fantastic experience for our team at such a young age," said Anne Walsh.
Played Well in Bad Weather
"They played well in bad conditions against a good Tralee Parnells side. Both teams showed great skill and determination. It was a good game of camogie and a credit to such young girls on both sides and it's so good to see such upcoming talent in the county," said Anne.
"We would like to thank Educate.ie and Castleisland Desmonds GAA Club for their ongoing support. Educate.ie for supplying jerseys to the new girls who joined this year and to Desmonds for the continued use of their facilities.
Well Done to U-14s and U-16s
"Well done to our U-14 and U-16 teams who played so well this year. We are looking forward to a great season next year in our new and happy club.
"What's important to us is that our girls are happy and confident and have a smile on their faces before and after they play the sport.
"There's a lot more to the game than winning but we could see what it means to the girls to have that title to call their own and that will stand to them and to the club in the seasons to come," said the equally delighted coach.
Former Hurlers and Camogie Players
Anne Walsh has also put out a call for former camogie players and hurlers who feel that they'd like to get involved with the club's coaching panel for the 2021 season.
"It would be of great benefit to the club to have that kind of experience involved in the training sessions. The passing on of the little 'tricks of the trade' can make a huge difference to the confidence and performance of a team as we face the challenges of the new season – but for now we're very happy with our lot at the end of this season," said Anne.
The Winning Squad and Coaches 
Aoibhean Cotter, joint captain; Meabh O'Connor, Erin O'Sullivan, Maria Jones, Seana Walsh and Julia Donnegan. Back from left: Aoibhe O'Connor, joint captain; Hannah Sheehan, Molly O'Connor, Michelle O'Connor, Moya McAuliffe, Evie Stamp and Roisín Bell. The team also includes: Sofia Fleming, Aimee O'Connor and Rachael O'Donoghue. Coaches: Anne Walsh and Leo Walsh.