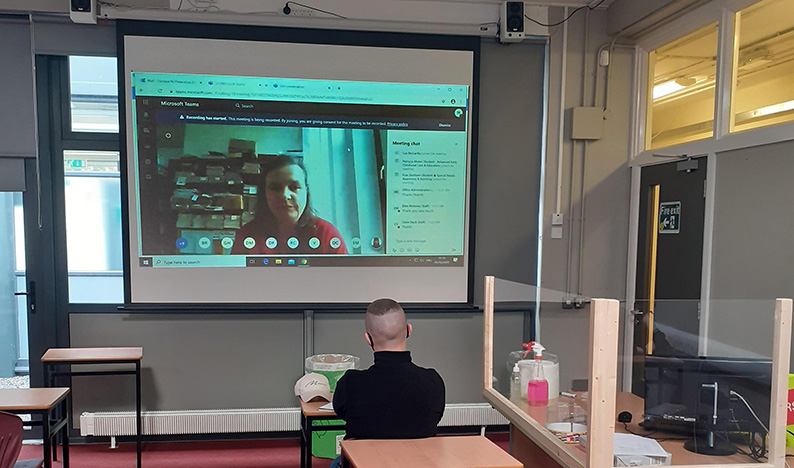 Kerry College Of Further Education And Training, Kerry College, virtually welcomed Niamh Doyle of Kerry County Library Services this week as she presented an online tutorial on what the Kerry Library service has to offer.
The interactive tutorial was streamed to multiple classes across both the Clash and Denny street campuses.
Kerry College and the Library services are collaborating to ensure students in Kerry have access to a range of learning and research resources, regardless of the level of restrictions imposed during the 2020/21 academic year.
Hundreds Logged In
Hundreds of students and staff logged in to hear Niamh explain the simple process of registering online as a member of Kerry County Library.
She also demonstrated how to use their website to access the extensive range of ebooks, audiobooks, electronic versions of national and international newspapers and magazines and online courses.
Apps Available
Popular books, newspapers and magazines apps such as RBDigital, PressReader and Borrowbox are available to subscribers to the library's online service.
All services are free to Kerry College students, as they are to all current members of Kerry County Library.
It was the first part of an initiative developed by the County Library and Kerry College to mitigate against the impact COVID restrictions could have on learning.
About Kerry College
Kerry College is a College of Further Education and Training with campus locations at Clash Road, Tralee, Denny Street, Tralee, Monavalley, Tralee and Church Street, Listowel.
It is part of Kerry Education and Training Board (ETB) – which funds and manages a range of Primary, Post Primary and Further Education and Training (FET) provision across County Kerry.
Range of Courses
You can browse Kerry College's range of courses online: http://www.kerrycollege.ie
For Kerry Library Online queries, tel: 066 71 21200 or email info@kerrylibrary.ie
​