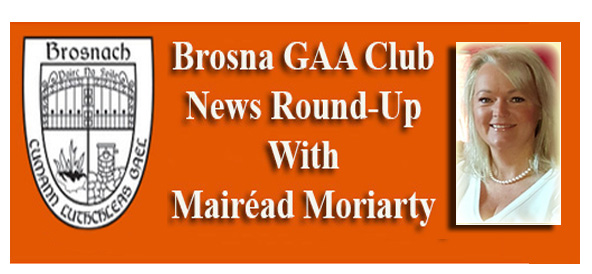 Le Chéile – Better Together
Le Chéile would like to say a big thank you for the continued help from the Community Support Fund and Kerry County Council whose contributions help to maintain our attractive parish. 
As well, many thanks to everyone involved in the day to day work on the ground in Brosna.
As a community, we thank all of your hard work and attention to detail.
Inter County Action: All Ireland U-20 Semi Final
The Kerry U-20 squad stepped out against a very strong Galway side on Saturday. 
It was great to be able to follow the game live on TG4. Our very own Paul Walsh, in a full forward position, showed his quality with two flawless points from play.
An injury picked up during the first half prevented Paul rejoining the match in the second half. His presence was very much missed.
The Galway side lived up to their reputation and closed out the game worthy winners.  Disappointment for us not to see Paul and his team-mates progress further. We wish Paul a speedy recovery.
Tipping Hats to Kerry Seniors

We tip our hats to the Kerry senior team on a dazzling performance against Monaghan in the national league. 
The pace of the game was intense but Kerry showed its fitness up to the final whistle. After all the other league games played out this past weekend, Kerry is still top of the table.
Well done to management and players.
The only downside was not having the dulcet tones of Timmy and Ambrose on Radio Kerry Sport to talk us through the game!  You can't have everything!
World Food Day
The UN has denoted 16 October as World Food Day and the purpose of this day is threefold. 
First, it is to remind everyone that up to ten percent of the world's population suffer from hunger despite enough food being produced globally to feed everyone.
The imbalance is a result of crop failure, drought, war and poverty.
Minimise Food Waste
Second, we should look at how much food we waste and what we can do to minimise that. 
Third, we need to consider the quality of food we consume.  Where possible, buy local and eat seasonal. This is not only a healthier way to live but it will support local food producers and strengthen the economy.
Donate Food Items
Looking ahead to Christmas, please consider how you might be able to accumulate and donate non-perishable food items to local food banks. 
Hunger and poverty exist in Ireland although it may be less visible to us.
Let's get organised now and consider what meaningful actions we can take to ensure a better world for those around us.

You can contact The Maine Valley Post on…Anyone in The Maine Valley Post catchment area who would like to send us news and captioned photographs for inclusion can send them to: jreidy@mainevalleypost.com
Queries about advertising and any other matters regarding The Maine Valley Post can also be sent to that address or just ring: 087 23 59 467.