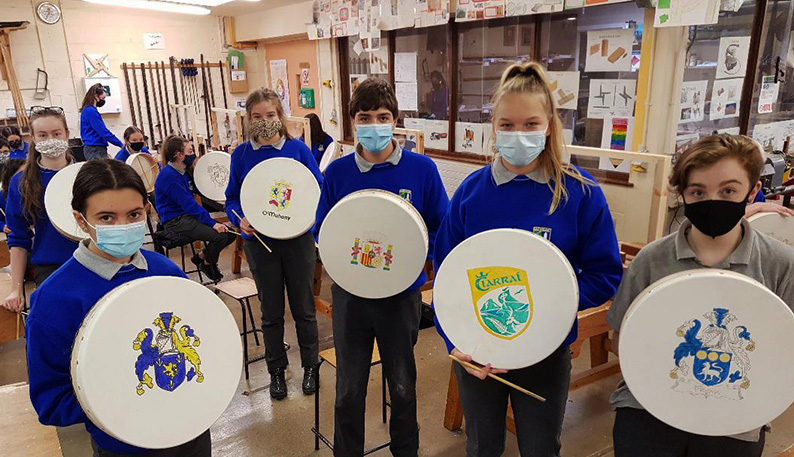 Castleisland Community College Transition Year students recently enjoyed an all day workshop making and eventually playing bodhráns!
Michael Vignoles a bodhrán, uilleann pipe maker, musician and craftsman from The Claddagh in Galway provided the innovative workshop.
"It was an exciting, cross curricular lesson which saw the students engage with woodwork, history, art, music agus 'an cultúr Gaelach," said teacher, Doreen Killington.
Woodwork Room Activity
"Their day was spent in the woodwork room and in the morning session they made their bodhráns. They soaked goat-skin in water whilst sanding down the wooden frame of the bodhrán.
"The wooden spokes were then shaped to be used as supports for the interior of the instrument.
Rubber Bands And Thumb Tacks
"The goat's skin was secured initially with a rubber band onto the circular wooden section and thumb tacks were then used to secure it better.
"The bodhráns were then placed in the sun to dry. A blade was used to trim off excess goat's skin. The afternoon saw them tracing and painting their crest onto their bodhrán.
Family Crest Research
"Prior to the workshop they had researched their family crest.
"The last hour of the workshop was a music lesson which saw them learn how to play the instrument correctly.
"They finished the day playing Molly Malone together in perfect unison," said Ms. Killington.
Morning Ireland Update from Aimí Ní Riada
Aimí Ní Riada sent an update on the interview she conducted at Castleisland Community College a couple of weeks ago for the RTÉ Radio One news programme, Morning Ireland.
Barring a major story breaking in the meantime, Aimí believes that the piece will be aired on the programme on this Friday morning at around the 7:30am mark.

You can contact The Maine Valley Post on…Anyone in The Maine Valley Post catchment area who would like to send us news and captioned photographs for inclusion can send them to: jreidy@mainevalleypost.com
Queries about advertising and any other matters regarding The Maine Valley Post can also be sent to that address or just ring: 087 23 59 467.