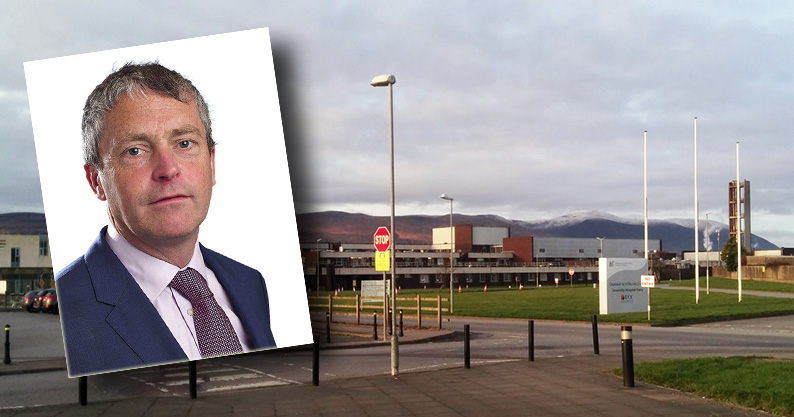 With the regional hospital system under unprecedented strain, and after making a speech today in the Dáil on the topic, Sinn Féin TD for Kerry Pa Daly has raised concerns that were passed on to him by several staff members within University Hospital Kerry.
Dire And Sobering Conditions
"I have been informed by a number of people who could be described as whistle-blowers about the conditions in University Hospital Kerry – and they are dire and sobering in equal measure," said Teachta Daly.
"These are members of staff with unique insight into the operations of the hospital. These were processes that were clearly in train before the pandemic, and amount to a de facto downgrading of the hospital's facilities."
The Revelations
The revelations passed on to Teachta Daly include: A pathology lab lying empty, despite funding for two pathologists having been allocated.
Massive pressure within cancer screening, with the endoscopy programme due to be cut.
A senior surgeon retiring with no plans in place to replace him.
Money from bowel screening programmes now being used to pay the salary of surgeons in Cork, with those funds diverted away from Kerry.
Lack of Beds Due to Covid Cases 
Surgeries being cancelled even after patients had completed two weeks of isolation due to a lack of beds due to hospitalised Covid-19 cases.
Rock bottom staff morale.
Outdated theaters, many over 40 years old, with a need for new theatres in every department but orthopaedics especially.
No Contract Offers 
Abysmal treatment of nurses, with quality staff not being offered permanent contracts.
No hip replacements carried out since March, with 150 hip replacement patients being sent to the Bon Secours hospital at huge cost to the state, with the procedures being performed by the same doctors.
From 70 Beds to 29
According to Teachta Daly: "The hospital recently went from having 70 Inpatient Beds and a Day Ward with 14 patients to having 29 Inpatient Beds and NO Day Ward, due to the rise in cases."
"Seperately Arthritis Ireland has also contacted me to say the number of people waiting for a rheumatology appointment at (UHK) increased by 26% between January and September this year because the current staffing levels are inadequate."
Calling on Minister Donnelly to Defend Cuts 
"If University Hospital Kerry is being downgraded, then let the Minister for Health have the guts to state as much and defend it.
This would have been bad enough for the people of Kerry, which has the 2nd oldest population in the state, at the best of times.
In a pandemic, it is unconscionable, and I call on the government to reverse these cuts by stealth and do right by the people of Kerry and the south west," said Teachta Daly.

You can contact The Maine Valley Post on…Anyone in The Maine Valley Post catchment area who would like to send us news and captioned photographs for inclusion can send them to: jreidy@mainevalleypost.com
Queries about advertising and any other matters regarding The Maine Valley Post can also be sent to that address or just ring: 087 23 59 467.