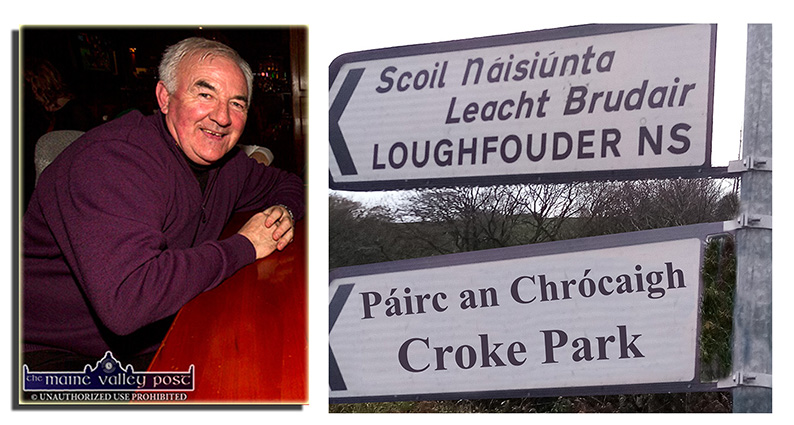 Cavan native and avid county GAA supporter, Cllr. Charlie Farrelly sent a note to express his pleasure at being in a position to help the management of Loughfouder National School, Knocknagoshel regarding the lack of directional signage for the school.
School Signs Secured
"As part of my councillor's allocation I was delighted to contribute €850 towards the supply and erection of two signs for the school.
"Signs have now been erected at Reidy's Cross and others in Brosna Village and at Headley's  Bridge," said Cllr. Farelly.
Flashing Warning Lights
"Also as a result of my notice of motion at Thursday's municipal district meeting I am pleased to announce that the school flashing warning lights which are out of order will be replaced as soon as new ones  are delivered.
Road Signs to be Painted
"Another major improvement in the vicinity of the school will be the road warning signs that will be painted on the roadway in both directions in the first quarter of 2021.
"As a local independent county councillor I am delighted to be working to the best of my ability for the entire municipal district," said a well pleased Cllr. Farrelly.
Devil Picked Attempt at Congratulations
I hope the management of Loughfouder National School won't mind the addition of the virtual Páirc an Chrocaigh sign to their school post in my devil picked attempt to congratulate Cllr. Farrelly on his county's success yesterday.

You can contact The Maine Valley Post on…Anyone in The Maine Valley Post catchment area who would like to send us news and captioned photographs for inclusion can send them to: jreidy@mainevalleypost.com
Queries about advertising and any other matters regarding The Maine Valley Post can also be sent to that address or just ring: 087 23 59 467.