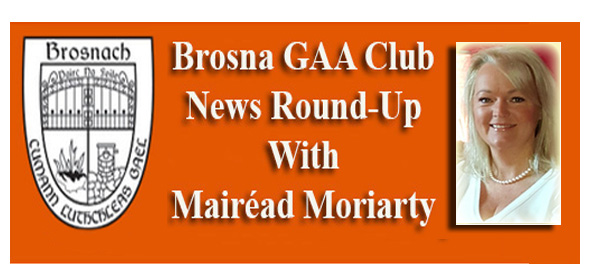 A Date For The Diary
James Doran, who won gold in the European Masters Championship Half Marathon recently in Portugal, will be given a formal escort from Páirc na Féile, down through the village on Saturday, December 5th at 8.30pm.
Everyone is invited to stand, socially distanced, along the street to congratulate James for his incredible achievement.
Gifts and Shopping Local in Lockdown
Regardless of lockdown, we can already feel the buzz of anticipation around Christmas shopping. 
Let's think about how we can spend our money in a way that not only brings joy to those we love but also to make meaningful choices that will support our communities.
Here are some ideas for you to consider.  The Post Office Shop sells vouchers that can be redeemed against groceries, newspapers, magazines.
Also, you can buy One for All vouchers that can be redeemed at many retail outlets nationally.
For anyone posting gifts, An Post has created specially priced boxes and padded envelopes that are a very cost effective way to mail presents.
Local Co Op Shops
You can pick up lots of really practical items at the local Co Op shops at both Mountcollins and Fealebridge.
Everything from fuel, wellies, wild bird seed and much more. Why not buy vouchers for restaurants, salons and shops in Abbeyfeale and Castleisland too.
We have a number of writers, poets, artists living in the area. Why not look at how you might support them.
Don't forget you can always donate to charities that look to alleviate suffering. Remember that a €5 that you might easily spend on a frivolous gift could easily cover the cost of a dinner for a homeless person.
Let's be a little more mindful when we spend this year and make great choices that uplift in a truly meaningful way.
A Piece Of Home – Contact Kay
For anyone who has family or friends unable to travel home at Christmas, why not arrange for a little piece of Brosna in the form of a copy of the award winning The Story of Brosna GAA to be posted to them. 
There is a limited number of books available. Please contact Kay Walsh on 087 2307948 who will arrange everything for you.

You can contact The Maine Valley Post on…Anyone in The Maine Valley Post catchment area who would like to send us news and captioned photographs for inclusion can send them to: jreidy@mainevalleypost.com
Queries about advertising and any other matters regarding The Maine Valley Post can also be sent to that address or just ring: 087 23 59 467.