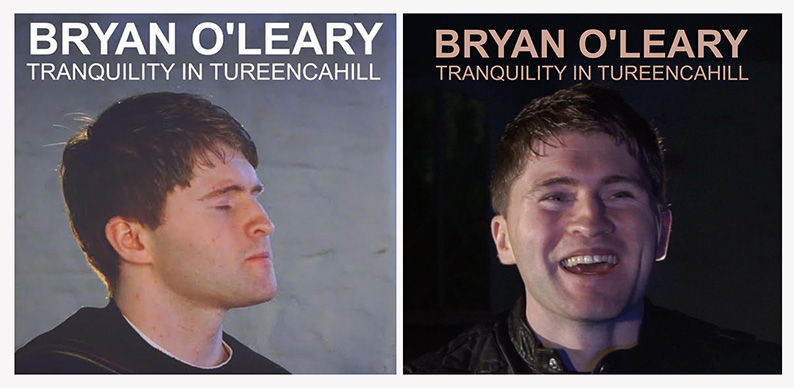 A slide composed by Sliabh Luachra box player, Bryan O'Leary while at Mass in Ballydesmond one morning has made it onto a compilation of his own work due for an online launch this weekend.
The launch of a new seven-track EP from Bryan O'Leary titled 'Tranquilty in Tureencahill' will take place on Saturday December 12th, as part of a Handed Down special.
It can be viewed on the website – details below and on the 'World Fiddle Day Scartaglen' Facebook page.
2021 Digital Pre-Release
This will be a 2021 digital pre-release ahead of the new year and just in time for Christmas.
There will also be limited hard copies of the recording available. This is the first recording under the new 'Sliabh Luachra Record Label' by Eoin Stan O'Sullivan which will feature many great musicians from the area in the coming months.
This initiative is funded by Kerry, Cork and Limerick County Councils with support from the Arts Council and Creative Ireland.
Lockdown Compositions
"This recording features all of my own musical compositions, some of which were composed during the lock-down periods and I greatly look forward to sharing them," said Bryan by way of explanation of his latest venture.
"A great honour was bestowed upon me back in May when I was one of ten traditional Irish musicians commissioned by Aoife Nic Cormaic of the RTÉ Radio One 'Rolling Wave' to compose some new music in response to the lock-down.
Belief And Confidence
"This gave me the belief and confidence to share some more of my compositional work with the public. One of the compositions I wrote for this programme 'Tranquilty in Tureencahill' is named after my own town-land and it's also the title of this new recording.
All the tunes on the recording are dedicated to Bryan's family members and to people who mean a lot to him.
Dedication to Frontline Workers
There are tunes dedicated to all the front-line workers for their massive sacrifice and help in saving so many others; to dancer Anne Keane, RIP; to his well known 'Granda' Johnny O'Leary, RIP; to his parents, Bertie and Maureen; to his teacher, Nicky McAuliffe; to his grandmother, Hannah Mariah O'Leary; to his music heroes and influences: Jimmy Doyle, Billy Clifford and Jackie Daly.
Sliabh Luachra Record Label
"I would like to sincerely thank Eoin Stan O'Sullivan of Sliabh Luachra Record Label for his immense work in recording my music and making this production possible,'' said Bryan.
Bryan O'Leary can be contacted on: 085 1125799.
The EP will be available from this Saturday, December 12th on Bandcamp at the following link https://sliabhluachra.bandcamp.com or alternatively you can order through http://sliabhluachra.ie or by contacting Bryan directly at olearybryan93@gmail.com

You can contact The Maine Valley Post on…Anyone in The Maine Valley Post catchment area who would like to send us news and captioned photographs for inclusion can send them to: jreidy@mainevalleypost.com
Queries about advertising and any other matters regarding The Maine Valley Post can also be sent to that address or just ring: 087 23 59 467.