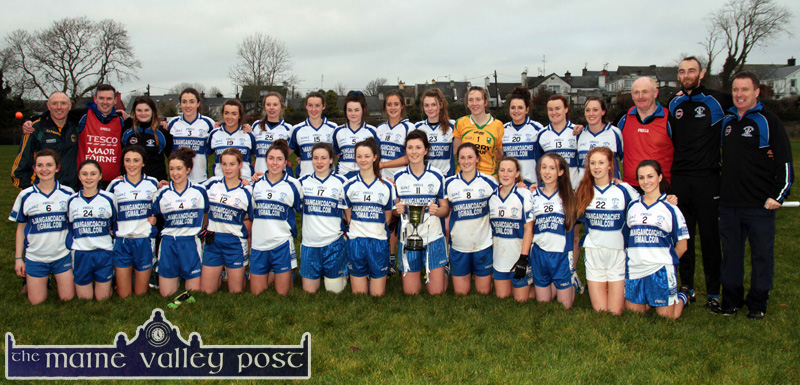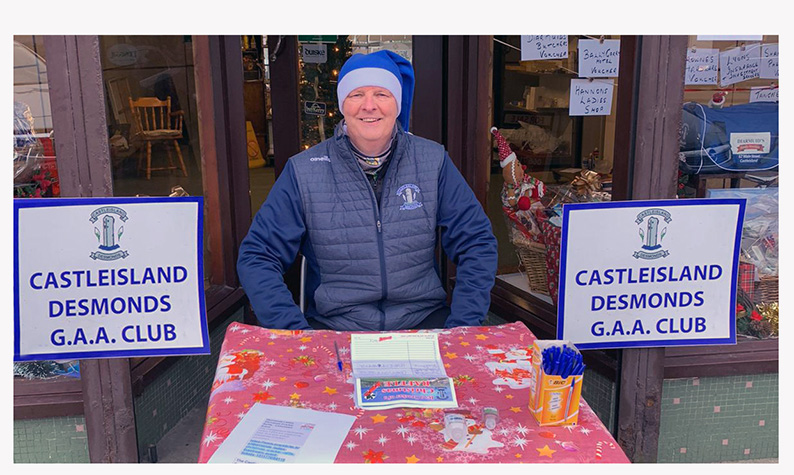 "Due to the unprecedented year we're living through our fundraising has had to be altered to accommodate restrictions," that's the opening line of an appeal from Aileen Lynch on behalf of the Castleisland Desmonds Ladies Football Club.
The club, which embraces this and neighbouring parishes, reached a high in the heel of the  2014 season when the Lorraine Scanlon led team won the All-Ireland Intermediate Club Championship title.
I Lár An Aonaigh
Now the club members are taking their fundraising efforts i lár an aonaigh and have re-opened Shanahan's / Mary Geaney's shop on Main Street as their focal point.
"We're hosting an online raffle  this year to raise funds to ensure the running of the Castleisland Desmonds Ladies Football Club," said Aileen.
"The people we asked were extremely generous in providing prizes which we will raffle, live on Sunday, December 20th.
Gerdie – Line-Selling Specialist
"The prizes are on display in Mary Geaney 's window uptown," said Aileen from her Lower Main Street perspective.
"We have some shops selling traditional  lines and Gerard Murphy is selling them on his lunch times from 1 to 2pm  but we have also embraced the online element and we're going through Eventbrite," said Aileen.
And you can follow the link with a click here:
https://www.eventbrite.ie/e/desmonds-ladies-christmas-cracker-raffle-livestream-event-tickets-131177059115?fbclid=IwAR2AbGY_mB1mdYWL-upVTz9scXLilzTOqjkr3xAX61OhyXviSArE8H5mywI
Generosity of Sponsors Reflected in List
Tickets: €10 for five tickets and, like the generosity of the sponsors, the list of quality prizes is almost endless:
Two Large Garvey' s Supervalu – Hampers; Browne's Hardware and Agri – Two €50 Vouchers; Circle K – €50 Voucher; Nana Beas Food Hamper; Top Part Motor Factors €50 Voucher; Jackie Reidy's €50 Voucher; Divas And Dudes Ladies and Children's Boutique- €50 Voucher; Castleisland Computers and Phone Shop, €50 Voucher; Tomo Burke's – Ear Pods; Diarmuid's Meat Shop- €50 Voucher; Hannon's Fashion Shop – Hand Bag; Moloney's – Christmas Cake; Crowley's – Perfume Gift; Sean Kissane – Ham Voucher; Sheila Costello – Bouquet of Flowers; Treasure Chest – Gift; Kennelly's Pharmacy – Hamper; Tommy Hickey' s – Glassware Set; Diamonds Forever- Voucher; Lidl – Hamper; Lynch's Pharmacy – Hamper; Vincent Murphy's Sports Shop -Shuttle Bord Game; Denis Cronin – Castlemeats Voucher; Marion's Beauty Salon – Voucher; International Hotel Killarney – Voucher; Diamonds Forever – Voucher; Green Door Restaurant – Voucher; Galvin Optometrists €50 Voucher; Centra – Wine; John Brennan – Hairdresser – Voucher; JOS Beauty Salon – Express Facial; Walsh Electrical – Gift; Dano's Motor Factor – Voucher; O'Brien's Lighting – Lamp; Tom Stuart's – €50 One 4 All Voucher; Shanahan' s Pharmacy – Hamper; Aldi – Hamper; Bobby O'Connell – One 4 All Voucher; Ballygarry House Hotel -Lunch for two midweek Voucher; Charlie Farrelly – Gift; Jackie Healy Rae – Whiskey; Michael Healy Rae – Book; Carry-Out Off-License- Wine; Tesco Abbeyfeale – Lego Set; GHMD €100 Off Car/Household Insurance; Pat and Marie Kearney – Hamper; Kingdom Oil – Voucher.

You can contact The Maine Valley Post on…Anyone in The Maine Valley Post catchment area who would like to send us news and captioned photographs for inclusion can send them to: jreidy@mainevalleypost.com
Queries about advertising and any other matters regarding The Maine Valley Post can also be sent to that address or just ring: 087 23 59 467.