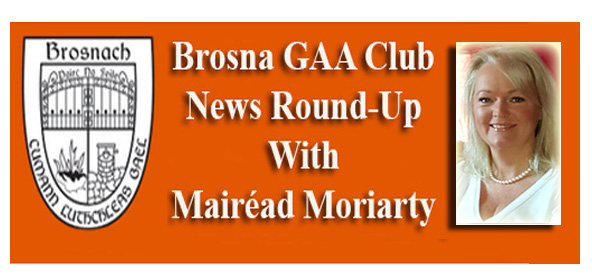 Happy New Year Brosna
May 2021 be a year of positivity and happiness for all in our parish and our friends and family globally.
Brosna GAA Club AGM
The Brosna GAA AGM takes place on Friday 15 January 2021 at 8pm. 
Due to current restrictions, the AGM will take place online this year.  The meeting will be conducted using Microsoft Teams Platform.  If you wish to participate, please send your name and email address by 4pm on 14 January to Secretary.brosna.kerry@gaa.ie.
The link to the online AGM will be emailed on 14 January to all those who have submitted requests to participate.  Instructions on how to access the meeting will be included in the email at that time.
National Club Draw
Brosna GAA are currently selling tickets for the GAA national club draw with some excellent prizes including a Renault Clio, €2,000 cash and many more.
Tickets €10 each are available from the Post Office or any senior player or club officer. The club benefits from all proceeds and your support is greatly appreciated.
Best Foot Forward
Just a reminder that the new and improved lights at the Pitch are switched on each evening from 6.15pm to 9.15pm.
Enjoy exercising safely and getting those New Year fitness goals off to a lively start.
Congratulations and Welcome Baby Adam
Having supported us so well over the Christmas period and in such difficult circumstances, the Post Office had a most joyful package delivered to them by the Stork. 
Arriving at the end of December, we send a heartfelt welcome to baby Adam.
Congratulations to his parents Marie and Frank and all the Murphy family.  No doubt, Brosna GAA will be trying to get an orange and white jersey on him before too long.
Brosna GAA Club LOTTO at €10,350
The Brosna GAA Club jackpot currently stands at €10,350. 
Results from the December 28th draw are: No Jackpot Winner.  Wins of €50 for Paudie Curtin,  €20 each for Maura Curtin, Kilmanihan, Liz Lane, Lavalla, Timmy O'Sullivan, Two Gneeves and John Breen, Banna.
The online lotto is a great way to buy tickets for forthcoming draws.  Access with a click on the link here:  https://smartlotto.ie/brosna-gaa

You can contact The Maine Valley Post on…Anyone in The Maine Valley Post catchment area who would like to send us news and captioned photographs for inclusion can send them to: jreidy@mainevalleypost.com
Queries about advertising and any other matters regarding The Maine Valley Post can also be sent to that address or just ring: 087 23 59 467.