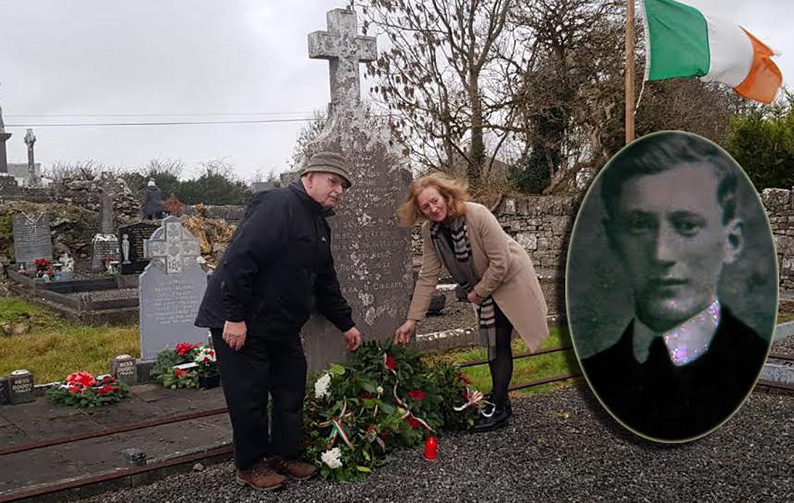 Dysart Cemetery on the Castleisland to Farranfore Road doesn't get a lot of attention these days in terms of funerals or ceremonies of any kind.
On the most recent St. Stephen's Day, however, a ceremony of great historical and local significance was held there.
A Covid-19 restricted gathering held a ceremony to commemorate the death and burial in 1920 of Irish Volunteer, patriot and Knocknagoshel native Captain James Hickey who was tortured and murdered by British forces in Tipperary Military Barracks on the Sunday of St. Stephen's Day 1920.
The Kerryman Report from 1920
The Kerryman of January 8-1921 carried the following report of the funeral which occurred on Friday, December 31st. 1920.
"The funeral of Mr. James Hickey (26), draper's assistant, of Ballinattin, Knocknagoshel, whose death occurred under obscure circumstances in Tipperary while in custody, took place on Friday to Dysart, Castleisland.
The remains were brought to Abbeyfeale Parish Church on the previous night where a silent vigil was maintained until the departure of the funeral next day.
After Solemn Requiem Mass was celebrated the coffin was draped in the tri-colour and borne on the shoulders of a number of volunteers for a distance outside the town.
On passing the barracks an Auxiliary Constable saluted the remains and demanded the pall, which was subsequently handed to one of the relatives. The funeral, which passed the deceased's home between Knocknagoshel and Castleisland , was of very large dimensions, and many expressions of condolences were conveyed to the deceased's relatives.
Rev. J. Burke, P.P.; Rev. Fr. Boyle, C.C.; Rev. J. Carr, C.C.; Rev. D. Fitzgerald, Very Rev. D. Leen officiated at the obsequies.
The chief mourners were: Mr. and Mrs. Jas. J. Hickey (parents); Misses Hannah, Kathleen, Nora (sisters); Mrs J.J. Burke (aunt): Simon and Laurence Hickey, Mrs. G. O'Sullivan (cousins).
A number of beautiful wreaths were laid on the grave."
Tom Browne's Centenary Oration on St. Stephen's Day 2020
At the centenary commemoration the following oration was given by Tom Browne, Castleisland – a grandnephew of Captain James Hickey.
Captain James Hickey (1894-1920) – Tipperary 'B' Company, Fourth Battalion Centenary.
"I welcome you all here today as we remember Captain James Hickey, Tipperary 'B' Company, Fourth Battalion, on this one hundred anniversary of his death on December 26th. 1920, a young man of 26.
James Hickey was born in 1894, he was the oldest son, and second of nine children born to parents Catherine, nee Daly of Scalp, Brosna and James J. Hickey.
The Hickeys' farmed 90 acres at Ballinatin, Knocknagoshel located off the Castleisland to Abbeyfeale Road and their homestead, a stone cottage, still stands today
Hickey's – A Safe House
It was there that the Hickey family provided a safe house for James's comrades during intensive man hunts for Irish Volunteers.
Following incidents such as the Soloheadbeg Ambush, Tipperary January 1919 and the rescue of Seán Hogan at Knocklong Train Station, County Limerick activists took shelter there.
Seán Tracey, Dan Breen and Séamus Robinson three of Ireland's most wanted men with a reward of a thousand pounds on their heads, took refuge and recuperation with the Hickey family intermittently and during the summer of 1919.
Loyalty and Tightness in Knocknagoshel
Irish Volunteers on the run were safe in the heartland of Knocknagoshel, more importantly in the hands of Knocknagoshel people who were known for their loyalty, tightness and support for the cause of Irish Freedom.
In 1914, at 20 years of age, James Hickey moved to Tipperary Town where he worked as a draper's assistant in The Arcade at No. 31 Main Street.
Captain of The Tipperary Club
He was an Irish Volunteer and a member of the Tipperary Club, which was frequented by the volunteers and the IRB, this was used as a cover for their activities.
In his adopted town, James joined the newly reorganised volunteers in Tipperary in early 1917 and is recorded as being captain of the Tipperary 'B' Company, Fourth Battalion in May 1918.
He was elected captain by his fellow volunteers ahead of men like Denis Lacey, Jerry Kiely, Paddy MacDonagh, Paddy Dalton, Con Moloney, the Fitzpatrick brothers, Martin 'Sparky' Breen, and a host of other legendary volunteers, but they chose the Kerry man him – and they never regretted it.
He was an active recruiter for Ireland's freedom from Britain.
Involved in Over 30 Operations
Hickey was the captain of the largest and most active company in the third Tipperary Brigade, the brigade that re-ignited the fight for freedom at Soloheadbeg, on January 21st 1919.
During a two year span from January 1919 to December 1920, Hickey participated in over thirty secret covert operations.
Activity at the time included: arms raids, laying ambushes, disrupting enemy communications,
smuggling weapons, seizing and guarding consignments of war materials, enforcing a boycott of crown forces, disrupting court proceedings involving volunteers and organising as far as possible the defence of Tipperary Town against reprisals by crown forces.
Captured by British Murder Gangs
Just before Christmas, on the 21 December 1920, the RIC captured James Hickey on Henry Street in Tipperary Town as he was coming from a company meeting.
Like so many other men in Tipperary Town he had been on the run fearing the British 'Murder Gangs' that were operating with impunity throughout Tipperary.
He was imprisoned at Tipperary Military Barracks, now the site of the Sean Tracey GAA Club, where four thousand British Soldiers were stationed.
Tortured, Bayoneted and Shot
On St. Stephen's Day 1920, Captain James Hickey was brutally murdered, following extreme interrogation, he was viciously beaten, brutally tortured, bayoneted multiple times and finally shot.
He was the third, of six Irish Volunteers to be murdered at Tipperary Military Barracks.
The British Military inquest report reads quite differently and it is questionable for many reasons.
Doctor Marnane stated that, 'The British Military inquiry that followed was a story as fantastical as Santa coming down a chimney.'
British Policy of Brutality
This potentially dubious inquest states that while this high-ranking officer's death 'was his own fault' and was killed by a sergeant in self defence.
It is documented that while James was being transferred to the on-site barracks hospital he attacked the sergeant on duty.
The sergeant supposedly reacted by bayoneting and shooting James on the spot, the report says duration of death was one minute – implying self-defence and humanity.
Tipperary Barracks was known for its policy of brutality. Soldiers were unruly and undisciplined with no regard or respect and there was absolutely no protection for prisoners of war, legally or traditionally within the prison.
Disposing of its Enemies
The historian, Doctor Des Marnane, contributor to the Tipperary Historical Journals, recorded: 'The hospital at Tipperary Military Barracks was a kind of clearing house for the army's new policy of permanently disposing of some of its enemies.'
As a mark of dis-respect the deceased James Hickey did not leave Tipperary Barracks in a coffin, instead his body was rolled in a white sheet and jostled onto the Abbeyfeale bound train.
Father Collected Body From Train
His 60 year old father, James J. Hickey travelled by horse and cart to collect his son's limp and marked body, wrapped in a blood-stained sheet to take his son home to Ballinatin.
The B Company formed a guard of honour at James's removal and a squad accompanied his coffin on his final journey to his resting place in the Hickey Family plot, where we stand today, Dysert Burial Grounds, Castleisland.
Captain James Hickey is commemorated locally on the Ballyseedy Memorial and in Tipperary on the wall of the former Military Barracks on the Brigades Roll of Honour, and also remembered on the obelisk in the Republican plot in St. Michael's Cemetery, Cashel Road, Tipperary.
Third Tipperary Brigade Old IRA
One of the wreaths laid by a grandniece of Captain James Hickey, Nora Walsh, nee Thompson, and presented on behalf of the committee members of the Third Tipperary Brigade, Old IRA Commemoration Committee – a non-political and non-profit group was done with the following message from their PRO, Kevin O'Reilly:
'Would you please do us the honour of laying a wreath from our commemoration committee. It's most unfortunate that we're strictly locked down and this has happened all too often on centenaries occurring this year, we can't travel.
'James was an outstanding volunteer and patriot who made the ultimate sacrifice for Ireland's peace and freedom.
"We owe his family an immense debt of gratitude which can never be repaid. Please tell them we are grateful and we will always remember and honour him.
"A memory notice of the centenary of his death will appear in the local Tipperary papers next week.
"Next summer when COVID is hopefully suppressed, our committee members will visit his grave in Dysert and organise for a de profundis to be recited at his grave.
Please forward to me some photos of the laying of the wreath, along with the names of relations and organisers attending,' – Best regards, Kevin O'Reilly.
Tom Browne's Oration Continued:
"Today we also remember and pray for James Hickey's siblings of Knocknagoshel, who also made massive contributions to Ireland's labour for freedom from the crown and to the peace we enjoy today: Nora Hickey Thompson, Mary Hickey Keane, John Hickey and my grandmother Eily Hickey O'Connor. Ar dheis Dé go raibh a n-anamacha 
Ironically, stone from the demolished Military Barracks in Tipperary – stone that witnessed many horrors – was recycled in 1968 and used in the building of the Roger Casement Memorial at Banna Beach.
Heartfelt Thanks to All Involved
Heartfelt thanks to all of you for making the effort to attend today during these challenging times. Special thanks to those who organised and made Captain James Hickey's remembrance possible.
Éamonn Ó Braoin, master of ceremonies and the Breen family, main organisers. Thanks to Noel O'Mahony, Clounacurrig for playing a selection of beautiful Irish airs on the bag pipes
Tim Horgan, author of Dying for the Cause – we especially thank Tim for recording James's legacy. Aileen Lynch, grandniece of Captain James Hickey, for singing Amhrán na bhFiann.
Kevin O'Reilly and the Third Tipperary Brigade, Old IRA Commemoration Committee, Tipperary.

Thank you all," – Tom Browne.

You can contact The Maine Valley Post on…Anyone in The Maine Valley Post catchment area who would like to send us news and captioned photographs for inclusion can send them to: jreidy@mainevalleypost.com
Queries about advertising and any other matters regarding The Maine Valley Post can also be sent to that address or just ring: 087 23 59 467.