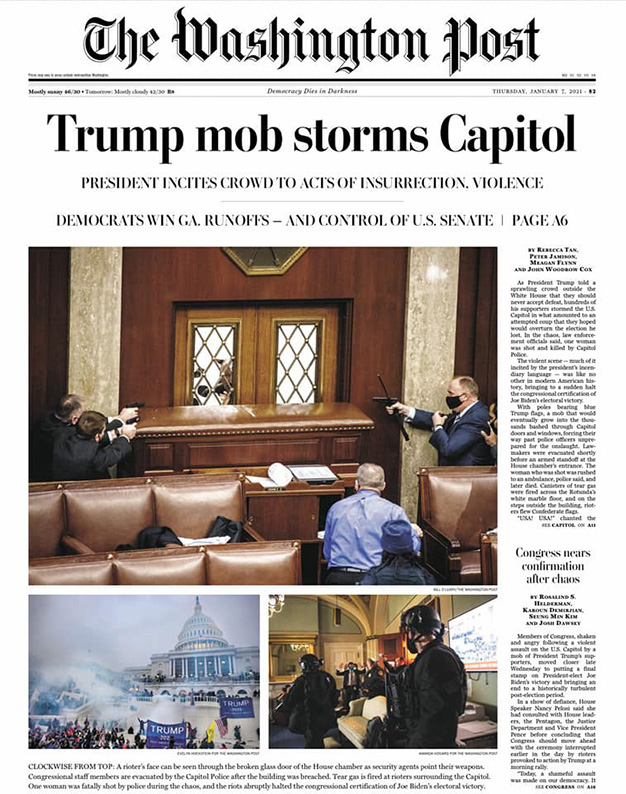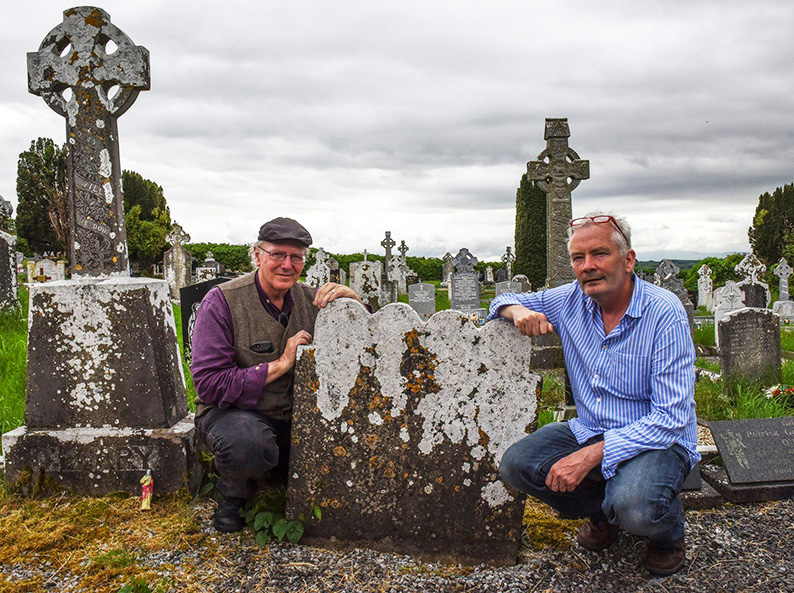 As people sat gripped in front of their television screens on Nollaig na mBan at the scenes playing out before their eyes on Capitol Hill, a man with strong Scartaglin connections was in the actual building doing his job.
While Caherciveen native, Donie O'Sullivan got acres of coverage in Ireland's media since, we have a closer to home hero to boast of.
The name Bill O'Leary is under the photographs on the front page of The Washington Post as a result of, probably, the most world gripping story since the shocking attack on the Twin Towers on September 11th. 2001
The Washington Post
Bill O'Leary is staff photographer with The Washington Post and he was on duty on Wednesday as the outgoing President Donald Trump invited his supporters to 'walk down the avenue' with him.
Bill's people came from Mount in Scartaglin and he and his wife, the writer / broadcaster, Jacki Lyden* visit regularly and they have both fallen in love with the views of hill and valley from the famed Glounsharoon high above Castleisland.
Photograph on Glounsharoon
In fact, Bill took an outstanding photograph from Glounsharoon shortly after the passing of one of the last of the Mount based clan.
Soon after Rita O'Leary died, Bill and Jacki 'came home' on holiday and they visited the Flemings close to the viewing area.
As they were chatting a rainbow appeared in the distance with a leg of its arc seemingly anchored on the old farm in Mount.
Of course he took a photograph of the scene and he called it Rita's Rainbow.
Luck and Divine Intervention
However, as luck or divine intervention would have it, Rita's son Gerry O'Leary – another well known and award winning, Dublin based photographer was on hand to capture Bill capturing the remarkable scene before them.
These things do happen. That we don't understand how or why they do is neither here nor there.
The view from Glounsharoon has impressed many people over the years and there are many championing its cause.
The Crowd in its Corner
The need for the crowd in its corner comes about because of the appalling state of the area itself and its apparent abandonment and abuse by Kerry County Council over the years.
This is in spite of its charms which are so obvious to the many passing motorists who feel compelled to pull in and take in the first proper eye-full of Kerry scenery.
If the powers that be think that the long proposed rehabilitation of Glounsharoon is being watched only by locals like me they are so wrong.
Step Out from The Crowd
Whoever can and will step out from the crowd and do something to advance the cause of Glounsharoon, could find themselves among the pages of The Washington Post – maybe not on the front as this week's news did – but wouldn't that be some achievement in 2021.
Bill's Big Break
Bill O'Leary has been a photographer for over 40 years in America beginning his career by covering music concerts and he has the likes of  Queen's Freddie Mercury and Van Halen among his celluloid souvenirs from that part of his career.
But it was back in1990, on January18th in Washington, D.C., that he got his big break in the newspaper business.
In Bill O'Leary's own words, he was, as an intern waiting for his first real photographic assignment.
Then, a huge story was breaking as Mayor Marion Barry was arrested for possession and use of crack cocaine in a hotel room during an FBI sting.
Administrative Staff at The Post
"I had been administrative staff at The Post. It's pretty much clerical, background work. And I was anxious to get out on the street with a camera," he told Arun Rath in an interview.
"An editor comes running in and says, 'There's a rumor that the mayor has been arrested.' For this to be happening was a monstrous local story."
Staff photographers were quickly dispatched to the FBI office at Buzzard's Point to cover the developing story. Two people were left behind.
Right Place Right Time
"Just me and one of the older photographers who had been going through a divorce and had asked for light duty."
"Their editor sent them to Barry's house as backup in case the other photographers missed him.
Shortly after O'Leary and his colleague arrived at his home, an FBI SUV pulled up and four men exited the vehicle. One of the individuals was Mayor Marion Barry.
O'Leary raised his camera to take a picture, but an FBI agent got in his way and started to push him back.
At That Instant
"But then a competitor for Channel 4 News started running up, shouting questions at the mayor. The agent turned toward the commotion.
"At that instant, I get off this one picture — BAM!
O'Leary rushed back to the office and developed the photo in the darkroom.
"I finally start to unwheel it from the spool, hold it up to a light box, and there it is. It's clear, it's sharp, it's properly exposed, and it's the mayor," he says.
First Lead Picture in The Post
It was the lead picture in the January 19 issue of The Washington Post.
"It was magic," O'Leary says. "That was my big break."
Up Scart !
*In fact Jacki Lyden has the distinction of having been her news organization, NPR NEWS, first reporter on the air from New York that dreadful day on September 11th 2001.
With thanks to Seamus Fleming and Patsy O'Donoghue who channelled the news of the Scart involvement in the events surrounding the most powerful house in the world.

You can contact The Maine Valley Post on…Anyone in The Maine Valley Post catchment area who would like to send us news and captioned photographs for inclusion can send them to: jreidy@mainevalleypost.com
Queries about advertising and any other matters regarding The Maine Valley Post can also be sent to that address or just ring: 087 23 59 467.