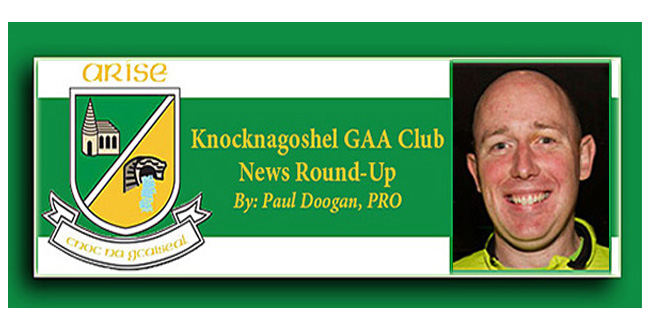 The AGM of Knocknagoshel GAA Club was held on Saturday, January 16th 2021 and was well attended via zoom. 
The following officers were elected for 2021: President; Lar Hickey; Vice Presidents: Micheál Walsh, Richie Walsh, Thomas O'Connor, Eamon Walsh, Dan Neligan, Sean Lyons and Paud Scanlon. Patron; Fr. David Gunn; Chairperson, Dan Roche; Vice Chairperson, Noel Brosnan;
Secretary, John O'Keeffe; Assistant Secretary, Michael Murphy; Treasurer, Anna Marie Curtin;
Assistant Treasurer, Kathleen Curtin; PRO, to be announced. Registrar, Michael Brosnan;
Children's Officer, Liam Bell; Club coaching /Games Coordinator, Shane O'Connell; Development Officer, Dan Neligan; Disciplinary/A.S.A.P. Officer, Der Keane; Safety Officer, Danny Walshe;
Website Co-ordinator, Shane O'Connell; County Board Delegate, Mike Murphy; North Kerry Board Delegate, Der Keane; St. Kieran's Delegates, Jack O'Connell and Noel Brosnan.
Secretary's Address  
In the secretary's address John O'Keeffe outlined the improvements that have been made to the GAA grounds in the last 12 months.
He thanked Denis Nolan for his generous sponsorship.
He added that it was a difficult year on and off the pitch with the North Kerry League and County Leagues not being completed due to Covid-19.
Later in the year some competitive action recommenced and Knocknagoshel advanced to the quarter finals of both the junior championship and the North Kerry championship.
John thanked Kieran McAuliffe who sponsored training gear and all the local businesses that supported the club during the year.
There was a huge community effort on May 17th when the club raised over €5,000 in one day in aid of Knocknagoshel Meals on Wheels.
Chairman's Address 
In his chairman's address, Dan Roche thanked the senior management team for their hard work over the last few years. 
He thanked all who helped out with lotto draws during the year, the businesses that have our lotto boxes and the great team of sellers.   He paid tribute to the underage coaches and referees for all the great work that they do.
A vote of sympathy was passed for Tom O'Connell, Christy Brosnan and all from the parish that passed away during the year.

You can contact The Maine Valley Post on…Anyone in The Maine Valley Post catchment area who would like to send us news and captioned photographs for inclusion can send them to: jreidy@mainevalleypost.com
Queries about advertising and any other matters regarding The Maine Valley Post can also be sent to that address or just ring: 087 23 59 467