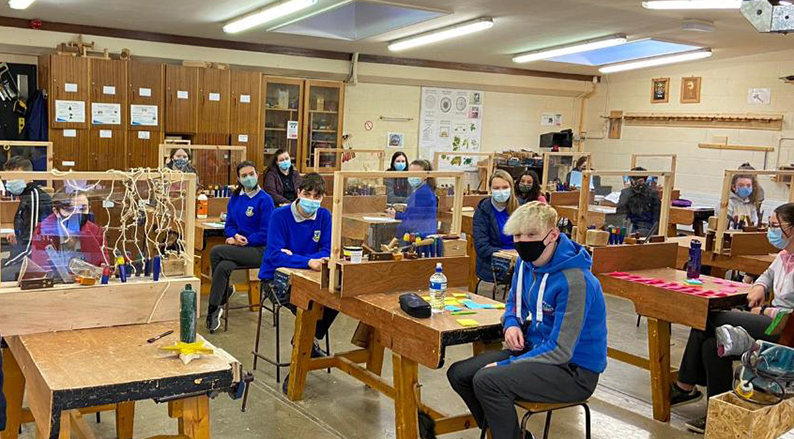 Past pupil and CEO of Madden and Mangan Construction Ltd, Lee Mangan, visited Transition Year students before the Christmas holidays to go through the optimum home building type.
He also provided advice on costs, materials, alternative building techniques, building time frames and advice on everything from foundations, insulation, windows and doors and roofing materials to name but a few of the areas covered in the talk.
Industry Design Challenge
All this in preparation for the Transition Year entry into the Construction Industry Federation (CIF) Competition – Design a Home for everyone challenge.
The project is team based and students are asked to design a home that helps solve issues such as the housing crisis and climate change.
The task requires students to design the optimum build type to solve our social housing crisis that effects 4,000 homeless children in Ireland today.
A Place to Call Home
There are also people currently in direct provision centers who all need a place to call home and this is something that we all take for granted.
The submitted designs will need to be eco-friendly, affordable and suitable for both elderly people and those with physical disabilities.
The project is being undertaken in construction studies class under the guidance of Aidan Joy the Woodwork and Construction Studies teacher.
Very Well Respected Builder
"Best of luck to the TYs in their endeavours and míle buíochais to Lee for giving so generously of his time!
"Lee Mangan left Castleisland Community College in 1995 and worked his way up in the building industry to become a very well respected builder of quality homes throughout Kerry and Munster and is an inspiration to all," said college teacher, Doreen Killington.

You can contact The Maine Valley Post on…Anyone in The Maine Valley Post catchment area who would like to send us news and captioned photographs for inclusion can send them to: jreidy@mainevalleypost.com  Queries about advertising and any other matters regarding The Maine Valley Post can also be sent to that address or just ring: 087 23 59 467.