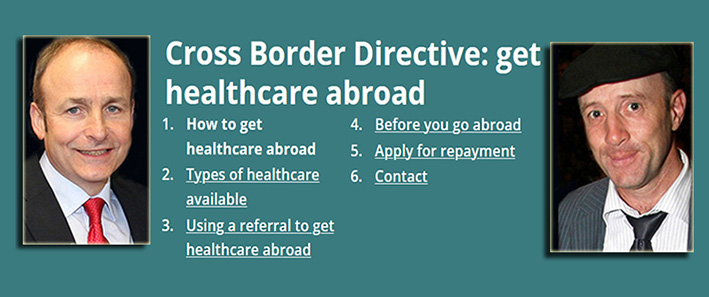 Michael Healy-Rae T.D. has warmly welcomed news this morning that a new Northern Ireland Planned Healthcare Scheme, which will run for 12 months, will operate on the same parameters as the EU Cross Border Directive scheme, which ceased due to Brexit.
It will ensure patients needing operations ranging from cataracts to orthopedic will once again be able to benefit from the scheme.
Thrilled at Creative Thinking
"I'm am thrilled that some creative thinking between both governments has given us this window for 12 months and I will certainly do everything that I can to insure that anyone who needs an operation in the next year, gets facilitated by my office," said Deputy Healy Rae.
"Last October in a heated debate in Dáil Éireann on this matter, I told Taoiseach Micheál Martin to 'cop on a small bit' – and I am delighted that the government has done just that on this matter.
Operations Within the State
"While I would love to see these operations taking place within the state and that still remains the goal but for now an extra year will make a great deal of difference in a lot of people's lives.
"The HSE has put in place transitional arrangements for patients who had commenced their patient pathway accessing healthcare in the UK including Northern Irelend under the Cross Border Directive (CBD) prior to the end of 2020.
Dark Cloud Lifted
"That arrangement was for those whose care is due to be completed in 2021. It will be a requirement that patients who seek to use the CBD transitional arrangements will be able to produce evidence that their care pathway had commenced prior to December 31st. last.
"I know that this news will lift a dark cloud off many people who had seemed to be left high and dry.
"It will, hopefully, point to further positive dealings with the Northern Ireland government on other cross border matters, maybe even on Covid-19 concerns," Deputy Healy Rae said in conclusion.

You can contact The Maine Valley Post on…Anyone in The Maine Valley Post catchment area who would like to send us news and captioned photographs for inclusion can send them to: jreidy@mainevalleypost.com  Queries about advertising and any other matters regarding The Maine Valley Post can also be sent to that address or just ring: 087 23 59 467.