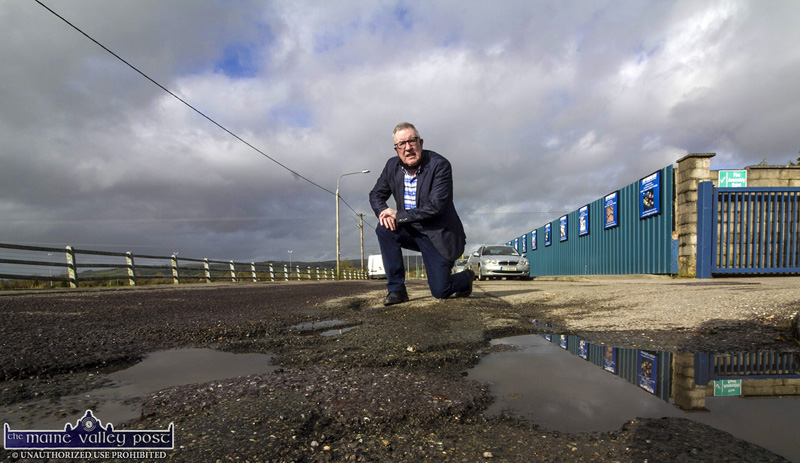 Honest to God, today I feel that if The Liberator himself, the great Daniel O'Connell, was alive and well he would have sent a message from Caherdaniel about the repair of the 400 metres of roadway from the entrance to St. John's Park to the gate of Castleisland Desmonds GAA Club. Everyone else did.
However, one of his clan, Cllr. Bobby was first onto this loose ball and the announcement that the badly neglected stretch of roadway in the town-land of Bawnaluska was to undergo a resurfacing job soon at a cost of €274.400.
Cllr. Fionnán Fitzgerald, Brendan Griffin, TD; Minister Norma Foley; Cllr. Charlie Farrelly, Cllr. Jackie Healy Rae, Danny Healy Rae, TD and Cllr. Maura Healy Rae also welcomed the announcement.
Third World, Lunar Like
Short and all as the stretch is, it services a couple of busy, local, private housing estates and of course the local GAA pitch.
Third world, lunar like and some unprintable descriptions were applied to the surface of the road and the stretch in question.
It is part of the road which once prided itself as the main Limerick to Kerry Road and indeed it funnelled the so called Gateway to Kerry on which Castleisland built its reputation, made its name and its money in the good old days of markets and fairs and open pubs and music and singing and ….

You can contact The Maine Valley Post on…Anyone in The Maine Valley Post catchment area who would like to send us news and captioned photographs for inclusion can send them to: jreidy@mainevalleypost.com Queries about advertising and any other matters regarding The Maine Valley Post can also be sent to that address or just ring: 087 23 59 467.