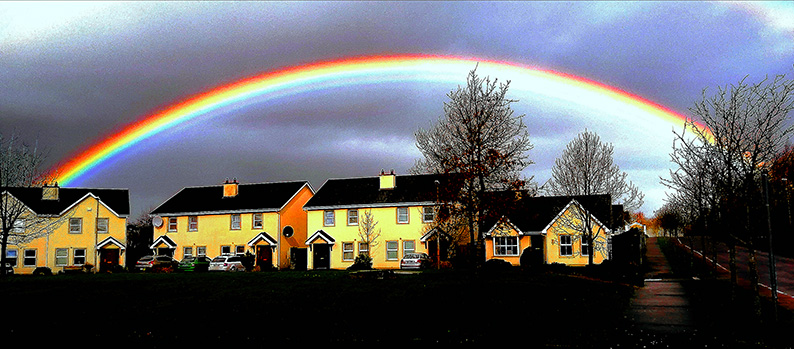 They do say that if you lie down with dogs you'll wake up with fleas.
And so it happens in our family where photographs and photography have been a theme over the past few decades.
I was out on Sunday morning with my camera in a corner of the old railway yard preparing for a project and didn't see anything spectacular.
Cathleen was strolling away up through Cahereen Heights and saw this perfectly formed and placed rainbow against the black, ominous sky just before the Sunday Morning Coming Down downpour which drenched everything in its path.
She said that she'd never seen a rainbow showing all its colours so vividly against a sky so black and she reached for the phone and click. 
I thought it a pity to leave it in storage on the fón póca and convinced her to send it to me.

You can contact The Maine Valley Post on…Anyone in The Maine Valley Post catchment area who would like to send us news and captioned photographs for inclusion can send them to: jreidy@mainevalleypost.com Queries about advertising and any other matters regarding The Maine Valley Post can also be sent to that address or just ring: 087 23 59 467.