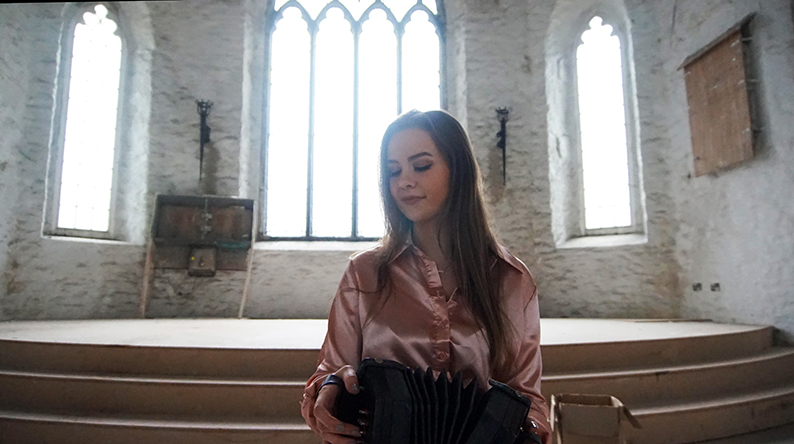 Abbeyfeale native Maura O'Connor recorded music for her new EP, It's Handed Down in mid January in Newmarket, on the North Cork side of the famed Sliabh Luachra area.
"This the second EP released under the Sliabh Luachra record label which was recorded, mixed and mastered by the wonderful Eoin Stan O'Sullivan," said Maura as she emerged from the enjoyable experience.
Accordion and Mandola for Company
"I was delighted to be accompanied by a friend of mine and neighbour, Kevin Murphy on mandola and by Thomas Barrett from Currow on accordion for one track on the EP which we composed over the course of the pandemic.
"It was a completely new experience for me, and I really enjoyed the whole process! It has been wonderful to be given the opportunity to share some new and old Sliabh Luachra music with everyone.
Handed Down and its Meanings
"The name of the EP It's Handed Down holds many meanings for me. Music has played a big part in my family over the past few generations and it is because of my granduncle Pat Collins that I am playing the concertina today!
"As well as this, I have to acknowledge the Handed Down series held in Scartaglen where I developed a love for the Sliabh Luachra music and became more knowledgeable about the musicians of the area.
Sliabh Luachra Archive
"Finally, I was fortunate enough to be able to access most of the tunes that I chose to record on the 'Handed Down Sliabh Luachra Audio Archive' available on SoundCloud.
"In essence the tradition has been handed down to me in many ways and I hope to be able to continue to do this.
"It's Handed Down is dedicated to my parents who have encouraged me with my music throughout the years.
Launch on March 20th
"I would also like to thank everyone who has contributed to instilling a love and understanding of the Sliabh Luachra music in me.
The EP will be launched live on Saturday, March 20th at 8pm and will be available on www.sliabhluachra.ie
"This is the third virtual concert as part of the Sliabh Luachra series created by Eoin Stan O'Sullivan. Hope you enjoy! said Maura.
Quite A Considerate Matching
Included in Maura's EP is a tune called The Honeymooners which was written by PJ Teahan of Handed Down fame. PJ wrote the tune in honour of friends, US couple and regular visitors, Crystal Bailey and Patrick Cavanagh who came to Kerry to play music on their honeymoon.
Quite considerately, Maura linked PJ's composition to one of his grand-uncle, Terry 'Cuz' Teahan's tunes in a circle closing, round the kitchen kind of  way which is so unavoidable and very much part of the Sliabh Luachra scheme of strings and buttons and bellows and bows.

You can contact The Maine Valley Post on…Anyone in The Maine Valley Post catchment area who would like to send us news and captioned photographs for inclusion can send them to: jreidy@mainevalleypost.com Queries about advertising and any other matters regarding The Maine Valley Post can also be sent to that address or just ring: 087 23 59 467.