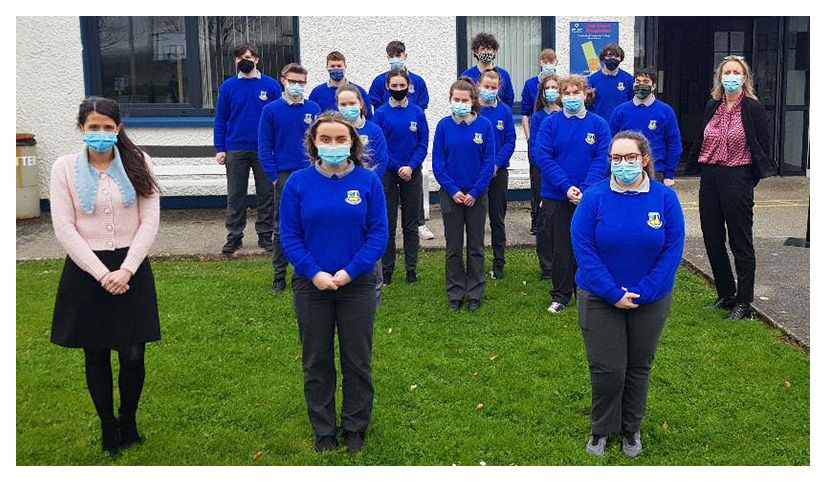 The Lifesavers group from Castleisland Community College won the Community Safety Award for a third time in the Lee Strand Garda Youth Achievement Award at the weekend.
A show of initiative, leadership and dedication throughout their project in Transition Year earned the college the award for a third year.
From a series of questionnaires and research they selected to raise awareness about the importance of heart health and how to maintain a happy and healthy heart through keeping active with healthy eating.
Deaths from Cardiac Arrest
They were shocked to learn that every day 13 people die in Ireland from cardiac arrest.
They carried out a survey in school and found that only five percent of the students had CPR training, and less than half of these would be confident enough to use it in an emergency.
They concluded that practical hands-on training would build skills and confidence in this area and help save lives.
They discovered that if you perform CPR, you can double, if not triple, the person's chance of survival.
CPR for Schools
So they researched the work of the Irish heart foundation and knew they wanted to partner with them to train students in CPR through their CPR for Schools Programme.
Once completed the students were equipped to train all students in the college.
The group wanted to engage with the local community and so they again worked with the Irish Heart Foundation to get their Mobile Health Unit to Castleisland.
Heart Health Information
It offered free blood pressure checks, pulse checks, lifestyle advice and heart health information. This had a huge impact in the community as 64% of those who attended were referred on to a GP for further check-up possibly saving many lives.
The group partnered with Slí na Sláinte to map out walking routes and create a display board at the entrance of the school.
In an emergency phone call, the responder asks for the Eircode which is often not to hand or is still often unknown.
Fridge Magnets Designed
So the students saw an opportunity and designed fridge magnets with a space to write an Eircode. IT was well received by members of the local community.
The students set up a stall at Garvey's SuperValu and gave out the magnets. The Eircode magnets have the potential to save many lives as in these pressurised situations it is something you can forget and it gives the ambulance services your exact location.
Great Enthusiasm on Display
Teacher, Elaine Murphy said that the students displayed great enthusiasm in the course of their work.
"From the moment they decided on this safety issue they tirelessly worked to make a difference in their school and local community," said Ms. Murphy.
"Even when Covid 19 struck last March this group continued to display passion and creativity in such a trying time.
Covid 19 Meant Uncertainty
"They felt that Covid 19 meant a lot of uncertainty for students and people in the locality and they wanted to continue promoting heart health and mental health in what they called Lifesavers week. "They gave the community a seven day challenge to keep their hearts healthy and minds sane during this time with tasks like: Get active, Lets cook and Random Act of Kindness.
Proud of Achievements
"Overall, we at Castleisland Community College are so proud of the Lifesavers achievements.
"This is the third consecutive county title won by the school and the Lifesavers hope to win the National Community Safety Award for the second time," Ms. Murphy concluded.

You can contact The Maine Valley Post on…Anyone in The Maine Valley Post catchment area who would like to send us news and captioned photographs for inclusion can send them to: jreidy@mainevalleypost.com Queries about advertising and any other matters regarding The Maine Valley Post can also be sent to that address or just ring: 087 23 59 467.