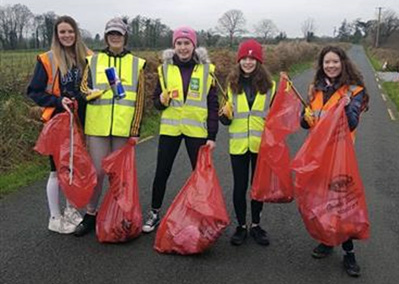 A special group of Transition Year students in Presentation Secondary School, Castleisland earned honourable recognition recently with a Garda Youth Achievement Group Award.
The Lee Strand sponsored award ceremony highlights examples of young people in the county who exemplify the qualities of what makes a fantastic volunteer.
Community Clean-up in Currow
Fiona Brosnan, Danielle Moriarty, Emma Buckley, Cara Fleming and Mia Key are such examples.
The teenagers took it upon themselves to organise weekly community clean-ups in their local village of Currow.
They documented their weekly actions through photographs and were a beacon of joy and energy in what has been a most challenging year for our young people and they led by example.
Enthusiastic and Energetic
As Transition Year students in Presentation Castleisland these five teenagers have remained upbeat, enthusiastic and energetic about the opportunities that exist in their daily lives.
They get out and about despite the restrictions and have always endeavoured to seek solutions.
They adopted this community clean-up each weekend which enabled them to partake in a Covid safe and socially distanced local activity.
Linked with Tidy Towns
The group linked in with the local Tidy Towns representatives, most notably Moss Leane and Peter O'Connor, and ensured that they were safe and seen at all times through the use of high visibility jackets, litter pickers and coloured rubbish bags.
They have been an inspiration to all and have no doubt inspired others in their school community to take up the action of litter picking and get to work on our own local roadways.
Worthy Award Recipients
Undoubtedly, Currow is a much cleaner and more pleasant place to walk due to the actions of this Transition Year group.
Despite the challenges of Covid-19 restrictions this group of young people has found ways to interact in a safe outdoor space whilst benefiting their local community and using their energy for good.
They are widely regarded as worthy recipients of the Garda Youth Achievement Award.

You can contact The Maine Valley Post on…Anyone in The Maine Valley Post catchment area who would like to send us news and captioned photographs for inclusion can send them to: jreidy@mainevalleypost.com Queries about advertising and any other matters regarding The Maine Valley Post can also be sent to that address or just ring: 087 23 59 467.