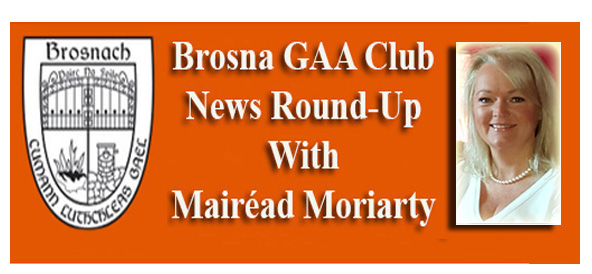 Big News On The Village Wedding Plans Front
Our congratulations to Conor Kiely and Chloe Hogan who announced their engagement last week. 
Brosna native Conor and Chloe, of Co Limerick, are currently living in the UK but are planning on tying the knot in Brosna next year. Our very best wishes to you both.
Happy Memories Of Fr. Tom Hickey
We acknowledge, with sadness, the recent death of Fr Tom Hickey. 
He came to our parish as a curate and during a ten year ministry with us, Fr Hickey was instrumental in establishing an awarding winning drama club. 
He brought with him formal training from a year spent at the prestigious Central School for Speech and Drama in London as well as his own brand of creativity and enthusiasm. 
Twenty five years after he left Brosna, a committee produced a This is Your Life evening in Brosna Hall. 
Fr. Tom was surprised as the guest of honour and was delighted to meet with old friends from his seminary days as well as his beloved brother, Ben, who was flown in from the US for the occasion.  There are numerous fitting accolades sweeping the internet at present from the many parishes throughout Kerry where he dispensed not just his love of the arts but his compassion and care as a man of God.  Rest in Peace, Fr Tom.
Maureen Cronin – A Trail Blazer
Mrs. Maureen Cronin was laid to rest this past week in Brosna. 
She reached the extraordinary age of 104.  She was a woman known to me as her daughter Ann was in my class in secondary school. 
Although, all I knew of Mrs. Cronin at that time was her abilities as a musician and teacher. 
Sadly, what I didn't know until now is how in her career as a young teacher she took on the might of the Department of Education and played a pivotal role in lifting the marriage ban.
Many of the advances and equity we as women enjoy in Ireland, were fought for by individuals like Mrs. Maureen Cronin. 
She is an example of what the power of an individual can contribute to society in a lifetime.
Her writings, the interviews she gave to both newspapers and radio, happily live on. 
On behalf of Mna na hEireann, thank you very much, Maureen.
Lovely €4,050 Lotto
Okay folks, with no Jackpot winner last week, the new Lotto jackpot is now €4,050. 
Last week's winners of the draws were: €50 to Jerry O'Connor, Glountane with €20 each to: Patsy Murphy, Knegare; Sheila O'Sullivan, Kilmanihan and Philip O'Sullivan, Knopogue.  Be sure to get your tickets online or at Murphy's Foodstore.

You can contact The Maine Valley Post on…Anyone in The Maine Valley Post catchment area who would like to send us news and captioned photographs for inclusion can send them to: jreidy@mainevalleypost.com Queries about advertising and any other matters regarding The Maine Valley Post can also be sent to that address or just ring: 087 23 59 467.