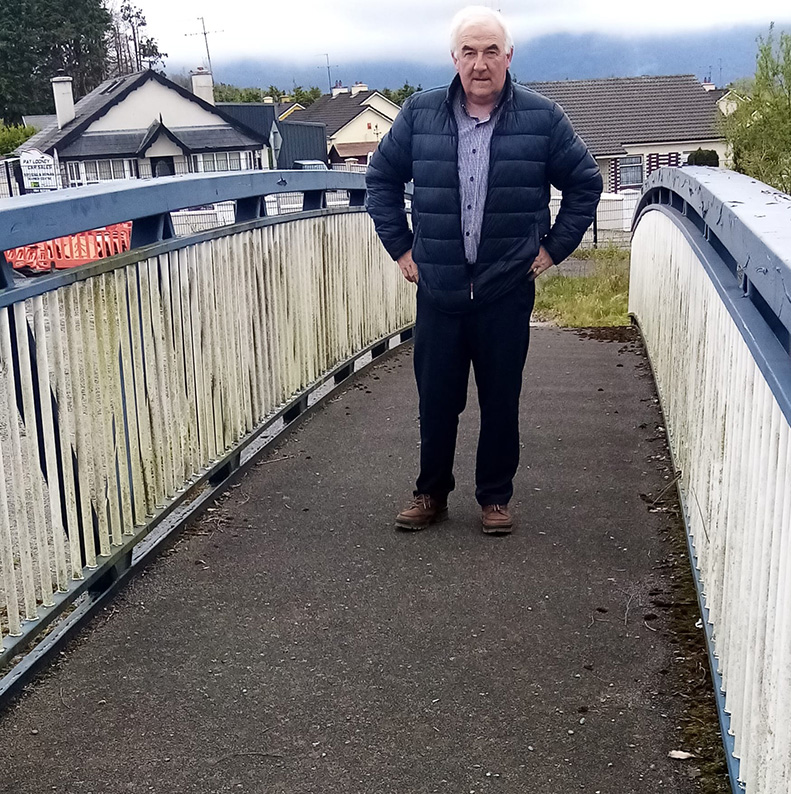 At yesterday's full meeting of Kerry County Council, Cllr. Charlie Farrelly, Independent, again called on the council's road and transportation department to put arrangements in place to have a disused pedestrian bridge in Killarney transferred to Castleisland.
The bridge, which cost in the region of €80,000 at its construction stage in 2017, is now lying disused in the car-park of the former Pretty Poly Hosiery Plant in Killarney.
Cllr. Farrelly says it would be an ideal fit as a pedestrian bridge over the River Maine inside the current, narrow Barrack Street Bridge.
Competition for Safe Passage
Barrack Street Bridge is used by families on their way to the Castleisland playground and by vehicular traffic of all shapes and sizes and it is increasingly unable to cope with both on a health and safety basis and in the competition for safe passage.
One need only point eastward along the same stretch of river to the fulfillment of an obvious need for the installation of a footbridge inside Church Street Bridge when Garvey's SuperValu opened their complex there in the summer of 2005.
Footbridge Lying Idle
At Monday's full meeting of Kerry County Council, Cllr. Farrelly tabled a motion for the second time asking that the council would consider transferring the footbridge lying idle in a Killarney car park to the Castleisland Local Authority Area to be used as a safety facility over the River Maine in Barrack Street, Castleisland.
"This is my second attempt to try and have this bridge transferred to Castleisland after I had a similar motion at a full council meeting in January of last year.
Motion Backed by Cllr. O'Connell
It should be noted that Cllr. Farrelly's motion was backed on Monday by Cllr. Bobby O'Connell (FG) as both men were instrumental in getting the playground built and opened back in 2010.
Cllr. O'Connell as a sitting representative and Charlie Farrelly through his fundraising support as chairman of the Castleisland Races Committee.
Who's Behind the Denial
It would be interesting to find out who exactly is behind the stubbornness in denying the people of Castleisland the use of this unused bridge for the safety of the children of the area. They use the road to the playground facility and often in the company of older siblings or grandparents.
We should be told if there is a good, logical reason for the bridge to be left to fall into a heap of rust and disrepair because the intransigence of someone in officialdom decreed that it should.

You can contact The Maine Valley Post on…Anyone in The Maine Valley Post catchment area who would like to send us news and captioned photographs for inclusion can send them to: jreidy@mainevalleypost.com Queries about advertising and any other matters regarding The Maine Valley Post can also be sent to that address or just ring: 087 23 59 467.