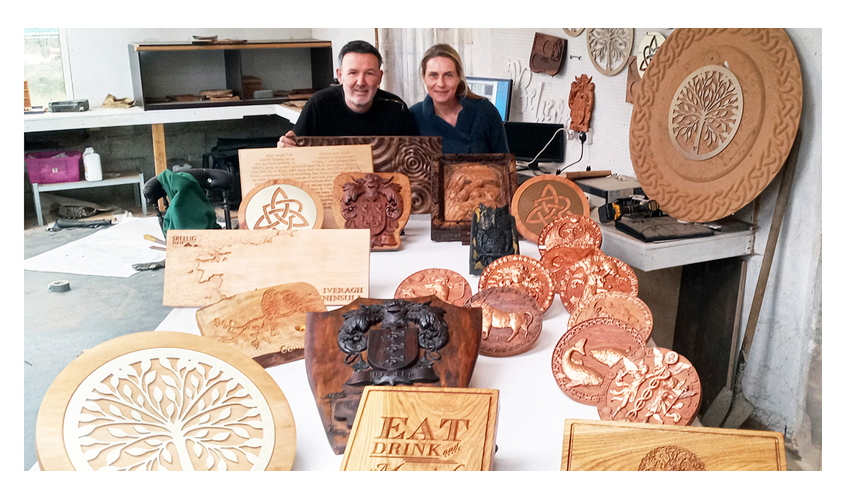 All at the Brosna based H&H Design & Detail are excited about their just launched, brand new website and they're so happy with the reaction it's generating over the past few weeks.
We told you here on The Maine Valley Post a few weeks ago about Denise and John Healy's oh so different range of wood based gift ideas and the sheer imagination and talent behind the creation of that broad range.

Family Height Ruler
"We are also delighted with our newest product which is our 'family height measuring ruler' created out of a single piece of solid timber," said Denise.
The 'ruler' is carved with a beautiful acorn illustration and the quote: 'from small acorns great oaks grow.'
Names or Nicknames
"Each ruler can be personalised with your family name, childrens' names or nicknames.
"It's a beautiful gift for any family to receive.
"We are so thrilled with all the local support we have received in our venture and we strive to create beautiful gifts that will last a lifetime," Denise concluded.
Anniversary or Retirement Gifts
H&H Design & Detail can also work on commissions and they're well up for discussing details of ideas others may have for pieces to present on occasion like anniversaries or retirements and the like.
Contact H&H Design & Detail on: 087 132-6287  /  083  113-5800 Tel: 068  446-65  Email: hhdesigndetail@gmail.com
Or you can click on the link here to see their new website: https://hhdesigndetail.com/


You can contact The Maine Valley Post on…Anyone in The Maine Valley Post catchment area who would like to send us news and captioned photographs for inclusion can send them to: jreidy@mainevalleypost.com Queries about advertising and any other matters regarding The Maine Valley Post can also be sent to that address or just ring: 087 23 59 467.