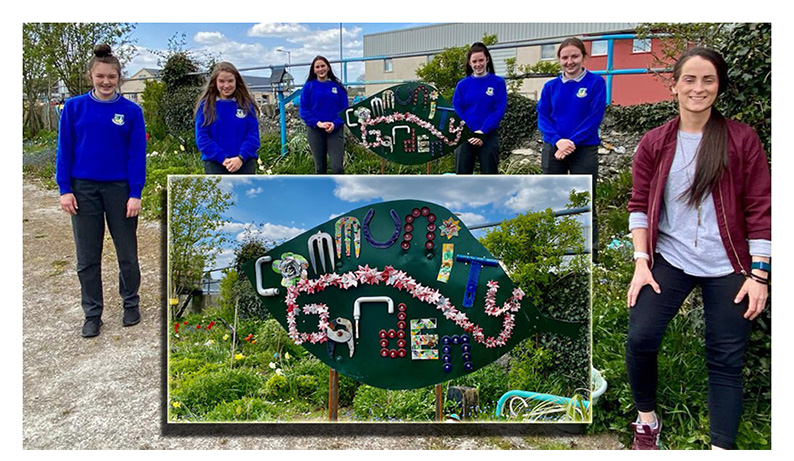 The sign which has been erected recently at the entrance to the Castleisland Community Garden was designed and made by five Transition Year students from Castleisland Community College under the guidance of their engineering teacher Jacinta Buckley.
Ms. Buckley and the students set out to create a sign that blended with the nature of its surroundings and they were very passionate about their creation which is made entirely from recycled materials.
Old Items and Materials
They set about collecting old items and materials from teachers, classmates and from home.
The sign includes broken garden tools, old horseshoes, bottle caps, old gate handles, broken door handles as well as lots and lots of drinks cans.
The back plate was created in the shape of a leaf and painted green to blend nicely into its new location.
Colourful and Creative
This was made from an off-cut of galvanised sheet steel kindly donated by one of our teachers.
The students used lots of the different items collected to spell out the words community garden in a colourful and creative way.
The students are hoping that the sign will be a pleasant addition to the community garden.
You can contact The Maine Valley Post on…Anyone in The Maine Valley Post catchment area who would like to send us news and captioned photographs for inclusion can send them to: jreidy@mainevalleypost.com Queries about advertising and any other matters regarding The Maine Valley Post can also be sent to that address or just ring: 087 23 59 467.