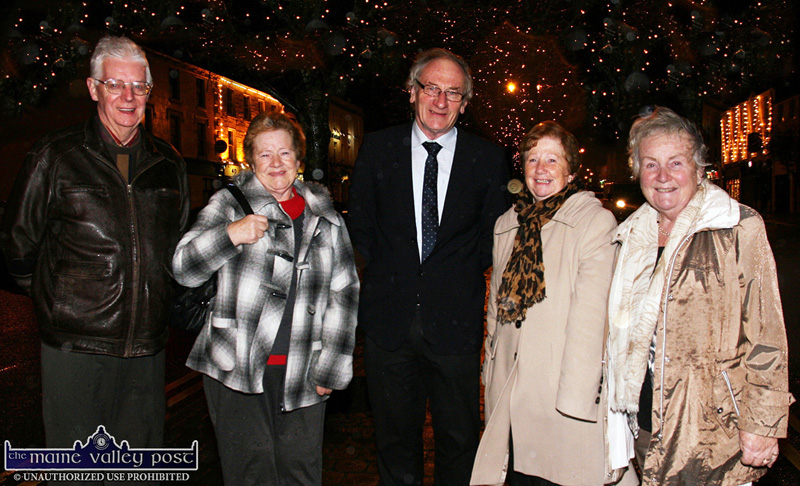 Michael Gleeson's decision to retire from active politics marks a real end of an era on the local political landscape and it brings a very dynamic, effective and dignified four decades of active political representation to a close, Killarney Chamber of Tourism and Commerce has said.
Paying tribute to the veteran councillor for the wonderful role he has played in so many facets of Killarney life over the years, the chamber said his commitment and dedication to so many community causes was extraordinary and he leaves a remarkable legacy of which he and his family and supporters can be immensely proud.
Fine And Principled Public Representative
"From the day he was first co-opted to Kerry County Council in 1983, right up to that moment on Wednesday when he caught all his council colleagues by surprise when announcing his retirement, Michael Gleeson has been a very fine and always principled public representative.
"He always put the welfare and the well-being of his people, his town, his county and society first and his was a strong and influential voice for all," said Chamber President Niall Kelleher.
Meticulously Preparations
He said the Kerry Independent Alliance representative was an eloquent orator, he always prepared meticulously for meetings and he never tabled a motion or supported a proposal unless he genuinely believed that it was the right and proper thing to do.
Mr. Kelleher said Cllr. Gleeson also played a magnificent role in the upkeep and presentation of Killarney outside of the council chambers and he was a very valued member of the Muckross House Trustees as well as volunteering countless hours with the Tidy Towns committee and the Meitheal.
Played his Part in Tidiness Campaign
"Just as he was a valuable mainstay in the Town Hall in Killarney and Áras an Chontae in Tralee, Michael was a familiar sight on the approach roads and in the town centre with a shovel or a brush or a refuse bag in hand as he more than played his part in keeping Killarney Looking Good.
"Everybody in Killarney owes Michael enormous gratitude for the spirit of volunteerism he so willingly demonstrated and, we hope, will continue to demonstrate as he finds more spare time in retirement," the chamber president said.
A Job Very Well Done
The Chamber of Tourism and Commerce said Cllr Gleeson can reflect on a job very well done when he looks back on his contribution to his town and his county, be it as a hugely respected teacher in the Presentation Monastery, as a local bard and scholar, as a community volunteer, as a member of Killarney Town Council, Killarney Municipal District Council and Kerry County Council and as a very stylish and accomplished footballer with Kerry and his beloved Spa club.
He Left his Mark
"Michael Gleeson's life in politics mirrored his life as a footballer in that he worked hard, he prepared well, he enjoyed great success, he left his mark and, at all times, he played the ball and not the man," Mr Kelleher said.
Killarney Chamber of Tourism and Commerce wishes Michael and his wonderful wife and number one supporter, Kathleen, a wonderful and adventure-filled retirement.
You can contact The Maine Valley Post on…Anyone in The Maine Valley Post catchment area who would like to send us news and captioned photographs for inclusion can send them to: jreidy@mainevalleypost.com Queries about advertising and any other matters regarding The Maine Valley Post can also be sent to that address or just ring: 087 23 59 467.