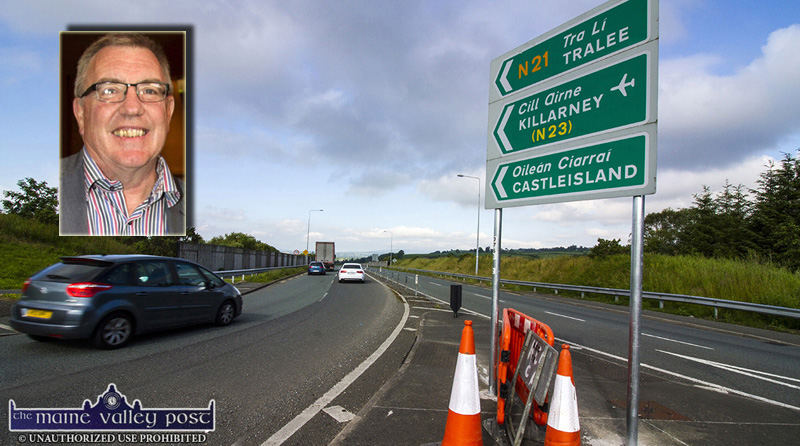 Cllr. Bobby O'Connell passed on a notice he received from Kerry County Council Senior Executive Engineer, Breda Mulryan about next week's closure of the Castleisland Bypass over Monday and Tuesday.
Ms. Mulryan, head of the roads, transport and marine department at the council, also issued the warning that the traffic diversions mean that the flow through Castleisland will increase, as many the time before, on these two days from 8am to 6pm.
Castleisland grew up in the grip of traffic chaos, but, since October 2010 we have grown accustomed to life without the kind of congestion which our 'Gateway to Kerry' status imposed on us.
Now, it's no harm to remind us to use the old safe cross code as as the volumes of traffic of old return – albeit briefly.
Grass Cut And Sweep
"Please be aware that CRJV on behalf of TII propose routine maintenance – grass cut and sweep – of the Castleisland TMA starting Monday 10th May 2021 for a period of two days as per the programme below," said Ms. Mulryan.
"The traffic management will comprise a closure of the northbound carriageway on day one followed by a closure of the southbound carriageway during day two.
During this time traffic will be diverted via Castleisland. This is the same setup that we have used previously to carry out the routine maintenance at this location," she said.
The Closure, The Locations, The Times  
Monday 10th May– 08:00 to 18:00 – N21 Northbound Closed between the roundabout with the N23 to the south and the roundabout with the L2041 to the north.
Tuesday 11th May – 08:00 to 18:00 – N21 Southbound Closed between the roundabout with the L2041 to the north and the roundabout with the N23 to the south.
You can contact The Maine Valley Post on…Anyone in The Maine Valley Post catchment area who would like to send us news and captioned photographs for inclusion can send them to: jreidy@mainevalleypost.com Queries about advertising and any other matters regarding The Maine Valley Post can also be sent to that address or just ring: 087 23 59 467.