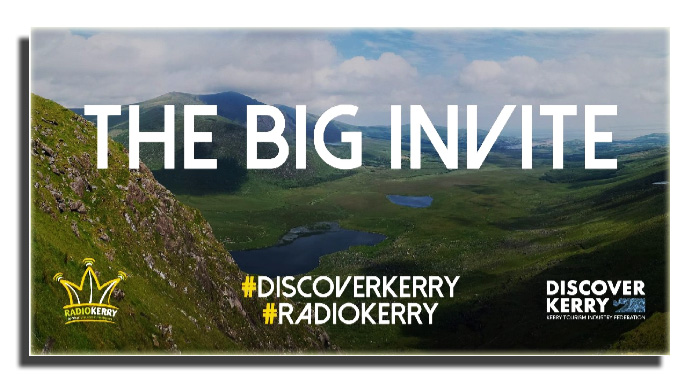 Listeners to Radio Kerry and Kerry people worldwide are being asked to participate in The Big Invite to help play a role in the recovery of tourism sector in the county.
Over the month of May Radio Kerry is leading the initiative, with Kerry County Council, the Kerry Tourism Industry Federation and other representative bodies, aimed at supporting the sector.
The objective of The Big Invite is to encourage people across the county, and abroad to showcase what Kerry has to offer by personally invite extended family and friends to visit the Kingdom, in accordance with all government safety recommendations.
Short Videos Wanted
Listeners are being asked to make short videos, 45 seconds or less, of their favourite part of Kerry and share them on their own social media using the hashtags #radiokerry and #discoverkerry. Images or videos for use may also be submitted by email to:  discoverkerry@radiokerry.ie
Radio Kerry presenters and listeners have already started producing videos and photos, so, if you are looking for some inspiration visit the link below.
Prizes for Best Videos
The Kerry Tourism Industry Federation has provided some prizes for the best videos including a one night stay for two people with breakfast and dinner at The Imperial Hotel, Tralee; a Tablet sponsored by Larkins B and B, Restaurant and Bar and a family pass for two adults and two children for Dingle Oceanworld.
Kerry has been consistently among the counties with the lowest number of COVID-19 cases. Over 3,000 staff in the tourism and retails industries in the county have participated in Safe Destination training which has been devised and is being provided by the Kerry Education and Training Board and Kerry County Council.
KerryOnUs
In addition to Radio Kerry's The Big Invite initiative, the Kerry Tourism Industry Federation has also launched a series of added extras, in association with tourism businesses, under a campaign called KerryOnUs.
More details can be found on www.discoverkerry.com
So, if you are from Kerry, or just love the Kingdom as much as we do – get inviting and get inspired with a click on the link here: https://www.radiokerry.ie/discoverkerry
You can contact The Maine Valley Post on…Anyone in The Maine Valley Post catchment area who would like to send us news and captioned photographs for inclusion can send them to: jreidy@mainevalleypost.com Queries about advertising and any other matters regarding The Maine Valley Post can also be sent to that address or just ring: 087 23 59 467.