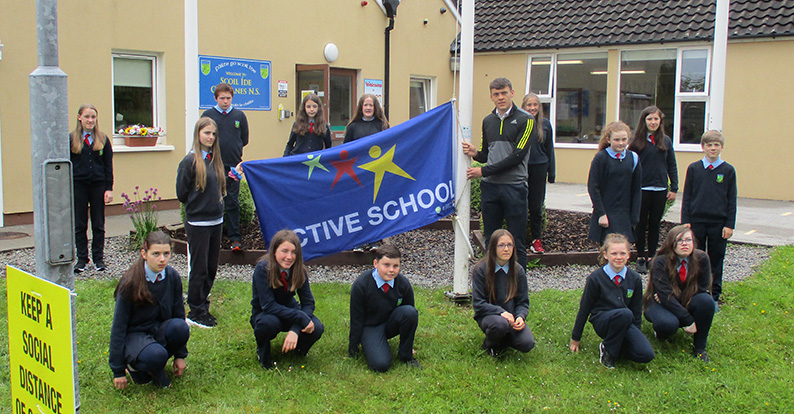 There was great excitement at Curranes National School on Wednesday last when Kerry star footballer, David Clifford visited and helped the pupils to raise their second Active School Flag.
Active School Flag is a Department of Education initiative, supported by Healthy Ireland and part of the National Physical Activity Plan.
The initiative provides schools with a framework to guide, support and incentivise them to work towards achieving a physically educated and physically active school community.
Second Active School Flag
The Department of Education accredited Curranes N.S. with its second Active School Flag in recognition of its continued commitment to the promotion of a healthy and active lifestyle among its pupils.
David Clifford spoke to each of the classes in the school about the importance of physical activity and fielded a broad range of questions from the pupils about his sporting career before raising the well-deserved Active School Flag.
Flying High Over the School
"The flag flies high over the school, along with the school's Green Flag and The Daily Mile Flag," said Principal Emer Nelligan.
"The school is grateful to the Bank of Ireland for facilitating David's visit to the school and it was a particularly special day for the sixth-class pupils as their graduation ceremony was also held in the school yard that day.
"The entire school community wish them the very best as they progress to post-primary school," said Ms. Nelligan.

You can contact The Maine Valley Post on…Anyone in The Maine Valley Post catchment area who would like to send us news and captioned photographs for inclusion can send them to: jreidy@mainevalleypost.com Queries about advertising and any other matters regarding The Maine Valley Post can also be sent to that address or just ring: 087 23 59 467.