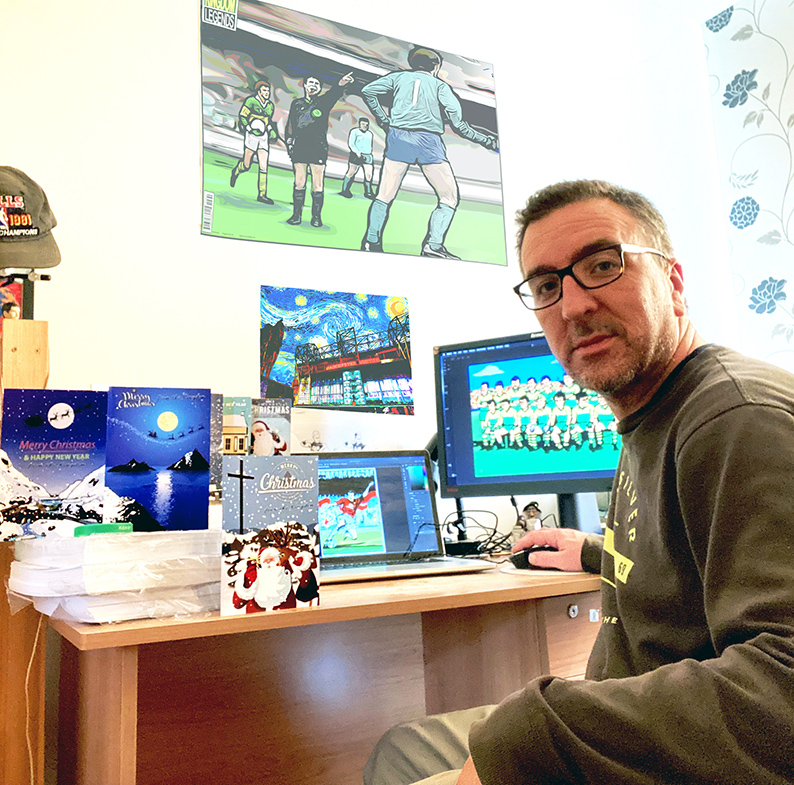 "It's been another long crazy year, for everybody…. very quite for me in both business and in general, so I decided to do the town Christmas cards again a lot of people really enjoyed them last year, and loved sending them to relatives and friends abroad, and were nice enough to tell me that during the year."
There's quite a bit to think about in that opening, soul baring sentence from local digital artist, Richard Nolan.
And brevity being the essence and soul of everything good, Richard really gets both his point and his product across very neatly.
New Designs, Different Styles
"I did four brand new designs in a few different styles, and like last year, they incorporate scenes from the town like: JK's, the Con Houlihan statue – I always loved the inscription, the church because there's always people who appreciate that, and of course the Castle again," said Richard allowing himself a bit of expansion.
"To me, and I would think the same had I not made these, I like original designs with definite sites / sights and objects you know from the place.
A Welcome Twist
"It's always a welcome twist on the same generic Christmas scenes that we've been looking at on TV, and receiving as cards, and every page of every magazine every year at this time.
"My cards are all printed locally this year, so they've been inspired by, conceived, created, manufactured and printed, and now hopefully all sold all in the town.
"This year, I also decided to do some Kerry / Kingdom cards, to include some of the county's great countryside scenes, in a Christmas setting of course, so obviously the problem with that is narrowing down which ones to concentrate on!
Stunning Gap of Dunloe
"We have an unbelievable amount of choices here in the Kingdom. But with the promise to myself of adding a few more each year, I was able to narrow to three to start with: the stunning Gap of Dunloe, a view of the Skellig Islands from Kerry, and the iconic cross at the highest mountain in Ireland, Carrauntoohil. 
People for just outside the town may prefer those, and maybe a few more people from Kerry may like to send them, always great to remind those who live outside the Kingdom of it's greatness! They're available on my website if you can't make it into Hickey's in Castleisland or any of the others that will hopefully stock them. 
The Golden Years
Kerry has always been very prevalent in paintings I do, from amazing mountain scenes to my childhood memories of Kerry GAA, which peaked in terms of winning and popularity here during my childhood… I was four in 1978 when the 'Golden Years' started, and was well into the GAA even at that young age because of my father.
One of my earliest art memories is getting a prize for a piece for a competition about 'Life In Kerry.'
"My entry was a hand drawn, finished in markers, detailed drawing of the 1981 team that completed the four in a row, that must have taken a 10 year old many weeks.
A Comic Art Style
"I now sell a few paintings like that on my website in a Comic Art style, and even have a newer version of that 1981 team that has been sold a few times.
"So obviously this is a lifetime obsession for me. I think the fact that I moved away for many years for college and years afterwards, has given me a great appreciation for my home town, and my county, and I would love to add to these collections every year, so I hope they sell a bit," said Richard the optimist. See more of Richard's work with a click on the link here: https://www.art-customized.com/products/castleisland-christmas-cards?variant=37566703829162

You can contact The Maine Valley Post on…Anyone in The Maine Valley Post catchment area who would like to send us news and captioned photographs for inclusion can send them to: jreidy@mainevalleypost.com Queries about advertising and any other matters regarding The Maine Valley Post can also be sent to that address or just ring: 087 23 59 467.