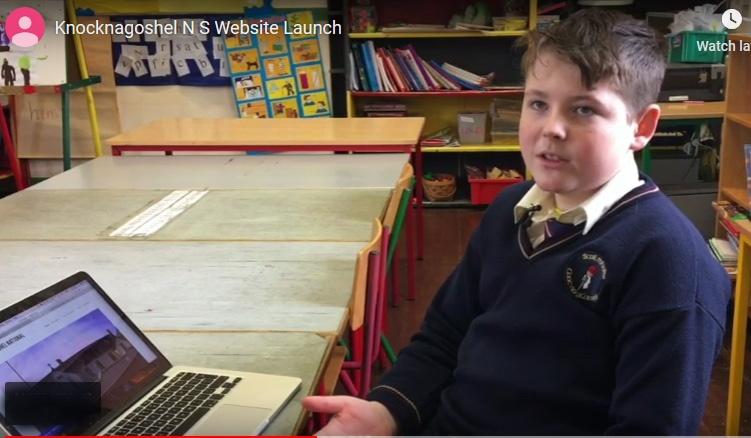 Scoil Mhuire, Knocknagoshel National School launched its website on Tuesday morning and it has been described as 'unique' by those closest to its creation.
Teacher and site mentor, Kate McSweeney and Principal Máire Collins were on hand with their vibrant, village school committee and community to do the honours.
Hours of Hard Work
"This website is unique in the fact that students in 5th and 6th class took on the project to design and build it," said work mentor, Ms. McSweeney.
"They put in many hours of hard work and had to learn a lot about website development to get the site up and running and were very motivated and enthusiastic right the way through the process.
Documents for Parents
"The site features information on the school such as upcoming events, opening hours and downloadable documents for parents.
"It also has pages devoted to the community in Knocknagoshel, where people can get information on local clubs and festivals as well as to view local landmarks.
News and Blog Section
"One of the most important aspects of the website is the news or blog section as this page is constantly being updated by the pupils.
"The blog acts as a way of keeping parents, family and friends far and wide up to date with the daily happenings at Knocknagoshel National School.
Edited and Published by Pupils
"Most of the articles here are composed, edited an published by the pupils themselves and many of the photos you see are also taken by them also.
"We hope that as many people as possible share the new site on their own social media sites so as to get word out that it is now live," Ms. McSweeney concluded.
If you'd like to see what they're 'getting up to' in Knocknagoshel all you have to do is click on the link below and a brand new and exciting window on the world of a village school and the community surrounding it will reveal itself to you. knocknagoshelns.ie 
You can contact The Maine Valley Post on…
Anyone in The Maine Valley Post catchment area who would like to send us news and captioned photographs for inclusion can send them to: jreidy@mainevalleypost.com 
Queries about advertising and any other matters regarding The Maine Valley Post can also be sent to that address or just ring: 087 23 59 467.
Please Note: A click on any of our adverts will reveal all you need to know about what our advertisers need to tell you.
Copyright Notice: The images and text which appear on The Maine Valley Post site remain the exclusive property of John Reidy, (unless stated otherwise) and are protected under International Copyright laws. Images or text may not be reproduced, copied, transmitted or manipulated without the written permission of the author, John Reidy, in this instance. Use of any image as the basis for another photographic concept or illustration (digital, artist rendering or alike) is a violation of International Copyright laws. All images are copyrighted by John Reidy 2018.