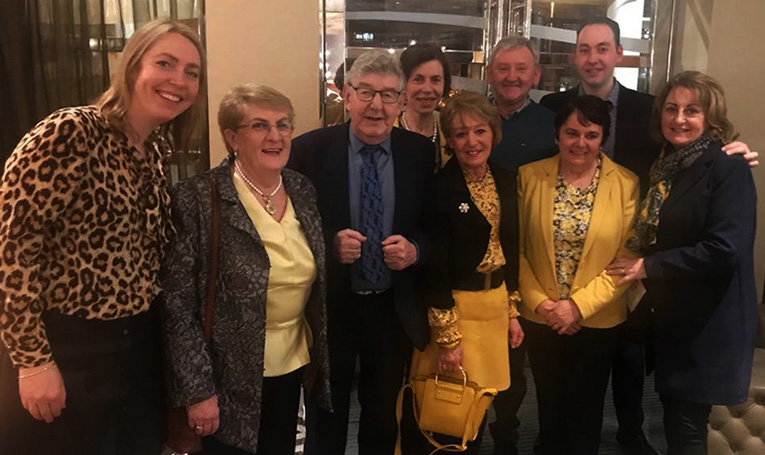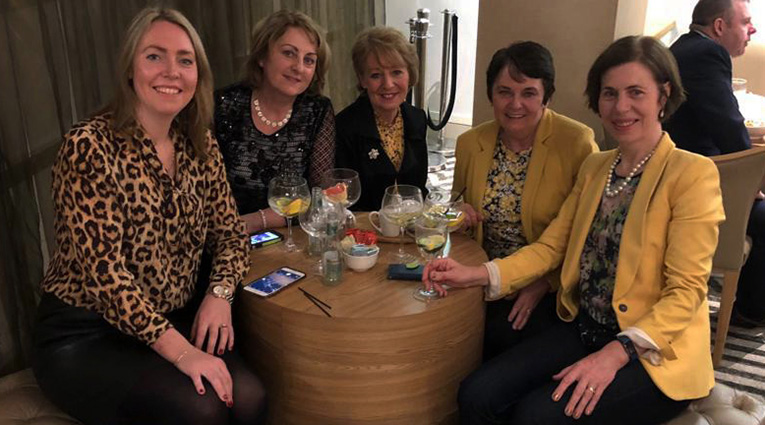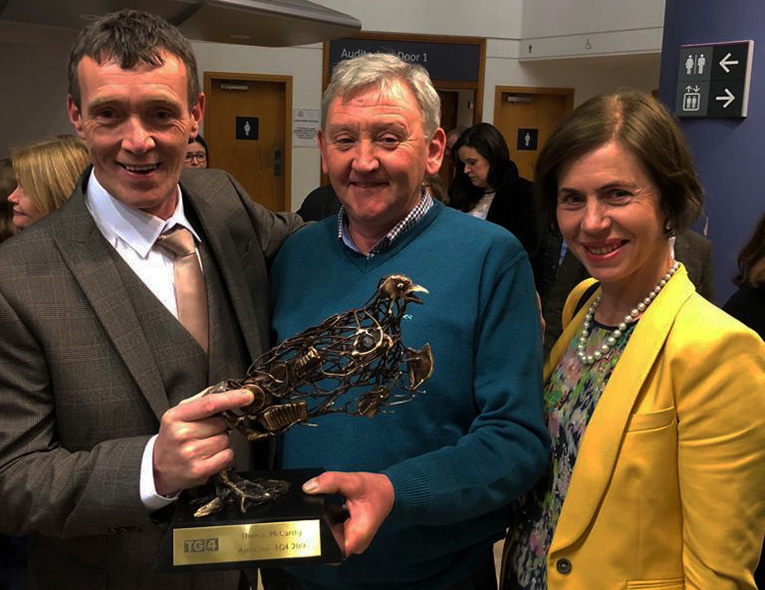 They did their county, their communities and their tradition proud on the greatest, highest stage traditional music provides for those it deems worthy of its most prestigious honours.
Nicky and Anne McAuliffe were introduced on the stage at The Waterfront Theatre in Belfast for the TG4 Gradam Ceoil Awards on Sunday night by Donal Murphy.
Speaking as gaeilge agus as bearla, Donal left his world-wide audience in no doubt about the merits of the recipients of the award – which Nicky likened to winning two All-Ireland medals – senior football medals of course.
Communities in Lixnaw and Castleisland in particular, and throughout the world of traditional music, are proud of the fact that they and their music were represented so ably on such an occasion and on such a stage.
The TG4 Citation
Nicky and Anne McAuliffe are two highly respected Kerry people who are held in great regard by musicians across the country.
They are two very humble people who never seek the limelight or publicicty, despite that, they are recognised as two hugely influential people in the traditional music world.
Nicky McAuliffe was born in Castleisland and Anne Sheehy-McAuliffe in Lixnaw and they both have their musical heritage seeping through them.
Travelled the World
They have travelled the world with their music – America, England, Europe and Australia and they were central figures in both the Brosna and Desmond Céilí Bands, as well as being very involved with Siamsa Tíre.
Nicky first started teaching music in 1970, under the auspices of Comhaltas Ceoltóirí Éireann and Co. Kerry VEC.
He started those classes in Gneevgullia, which has a strong musical heritage and he still teaches music around the county.
Willie Clancy Summer School
Indeed, many fine musicians had their first experience of traditional music at the hands of Nicky and Anne. He and Anne give classes at the Willie Clancy Summer School in Milltown Malbay every year and they also taught at the "Gaelic Roots" festival in Boston College. Nicky is a composer as well, with quite an extensive range of compositions, even though he doesn't say much about this other talent of his either.
In Big Demand
He is always in big demand to write articles about music and the history of traditional music and it is many the musician who has called on him for help in naming a tune that they were recording. Nicky has an encyclopaedic knowledge of music accompanied by an uncanny knack of being able to retain the information and recall it as required.
Nicky and Anne Biography
Nicholas born in 1945 plays flute, whistle and fiddle and Anne (née Sheehy) was born in 1946 plays flute, whistle, accordion and concertina. From Lyre, Castleisland,  and Glenoe in the parish of Lixnaw in Co Kerry respectively they have been prominent members of CCÉ and of the Brosna and Desmond Ceilí Bands and Siamsa Tíre of which Anne was a founding member.
All-Ireland Title Winners
They have taught large numbers of musicians throughout Kerry and Co. Cork mostly in schemes organised by Comhaltas and the VEC. They have been regular teachers at Scoil Samhradh Willie Clancy and Scoil Éigse for many years.
Anne won the All-Ireland under-18 accordion in 1964 and the senior whistle in 1967. Nicholas won the senior whistle in 1971.
They were both part of the Brosna Céilí Band which won the All-Ireland Céilí Band award in 1972.
Touring North America
They were part of the CCÉ touring group to North America in 1975 and feature on the related recording and on a 1978 fundraiser for Dúchas House in Tralee.  They toured extensively with Siamsa Tíre and also toured America and Australia as members of 'Na Ridirí' – a group of musicians, singers and dancers organised by Diarmuid Ó Catháin.
Nicholas has provided information for many recordings and has taught at ITT in conjunction with Siamsa Tíre since 1995.
Melodion First Instrument
Nicholas learned his first music from his parents, Kathleen and Florence who both played melodeon. Therefore his first instrument was melodion and later tin-whistle.
He later took up the fiddle which he had seen played by his neighbour and friend, John Ben Lane. He listened avidly to a series of radio programmes namely 'A job of Journeywork' which introduced him to the great Sligo fiddle players – Coleman, Killoran and Morrison and also the Kerry great Paddy Cronin.
The Late Denis McMahon
In 1964 when he started to travel around to Fleadhanna Cheoil, he kept company with fiddler Denis McMahon (recently deceased)  from Castleisland, and Jack Regan, Knocknagoshel.
Anne learned her first music from her father, Jack Sheehy, who played the fiddle.
She attended the inaugural meeting of Comhaltas in Lixnaw in 1960 and in the same year competed in the first Kerry Co. Fleadh Cheoil in Ballyheigue, winning the under 14 Accordeon competition. Growing up her most admired musicians were Willie Clancy, Paddy Canny, Joe Burke and Paddy Carty.
Desmond Ceili Band
Both Anne and Nicholas travelled all over Kerry and beyond playing for céilithe  with the Desmond Ceili Band which was led by Michael O'Callaghan. When they joined the Brosna Céilí Band in 1967 it was led by Donal O'Connor, Brosna.
They were married in 1975. On marriage Anne resigned from her job as a shorthand typist with Kerry County Council and started teaching music full time.
Invited to Áras an Uachtaráin
The McAuliffes were part of a group invited to Áras an Uachtaráin by President Mary McAleese in 2003 "to a reception to celebrate local traditional musicians throughout Ireland".   They were also part of the Rockchapel-based group, Ceoltóirí Shliabh Luachra who were received in Áras an Uachtaráin by President Michael D.Higgins and his wife Sabina.
The group's acclaimed show "A musical trail through the history of Ireland" was researched and written by Nicholas.
Synonymous with Teaching
Nicky and Anne are synonymous with teaching music, their lives dedicated to the passing on of the tradition. As a duo they are deeply respected within the tradition for the wealth of their knowledge and indeed Nicky is often called upon for his encyclopaedic knowledge of tunes, titles and performing styles.
In fact as a music historian, Nichloas McAuliffe's opinions and sleeve notes are highly sought after as an imprimatur on many publications and musical recordings over the years.
Legendary Knowledge
His knowledge of traditional music its tunes and players is legendary and he has always been the man to go to for confirmation of facts about the genre.
They continue to teach music in Kerry and their list of past students includes the O'Keefes, Michelle O'Sullivan, Paudie O Connor, Brian O'Leary, Niamh Ní Charra, Pádraig Buckley (founder of the Killarney School of Music) to name but a few.
Emma O'Leary and Eilish Murphy
Nicky had the notable experience of teaching two great ladies of music from primary school right through Secondary and third level, namely Emma O'Leary and Eilish Murphy!
in September 2018, Nicky began his 49th year teaching and Anne her 44th.
Nicky was awarded 'Ceann Ródaí' by Comhaltas Ceoltóirí Éireann at Scoil Éigse in Tullamore in 2009.
They were both presented with an award at the Pádraig Ó Caoimh weekend in Castleisland in 2011.They were also honoured by the Killarney Branch of Comhaltas on the occasion of the Kerry Co. Fleadh in Killarney in 2008.
You can see the TG4 programme with a click on the link here and you'll find the Nicky and Anne segment at 38:31 in: https://www.tg4.ie/en/player/home/?pid=6003241811001&teideal=Gradam%20Ceoil%20TG4%202019&series=Gradam%20Ceoil%20TG4&dlft=33
You can contact The Maine Valley Post on…
Anyone in The Maine Valley Post catchment area who would like to send us news and captioned photographs for inclusion can send them to: jreidy@mainevalleypost.com 
Queries about advertising and any other matters regarding The Maine Valley Post can also be sent to that address or just ring: 087 23 59 467.
Please Note: A click on any of our adverts will reveal all you need to know about what our advertisers need to tell you.
Copyright Notice: The images and text which appear on The Maine Valley Post site remain the exclusive property of John Reidy, (unless stated otherwise) and are protected under International Copyright laws. Images or text may not be reproduced, copied, transmitted or manipulated without the written permission of the author, John Reidy, in this instance. Use of any image as the basis for another photographic concept or illustration (digital, artist rendering or alike) is a violation of International Copyright laws. All images are copyrighted by John Reidy 2018.