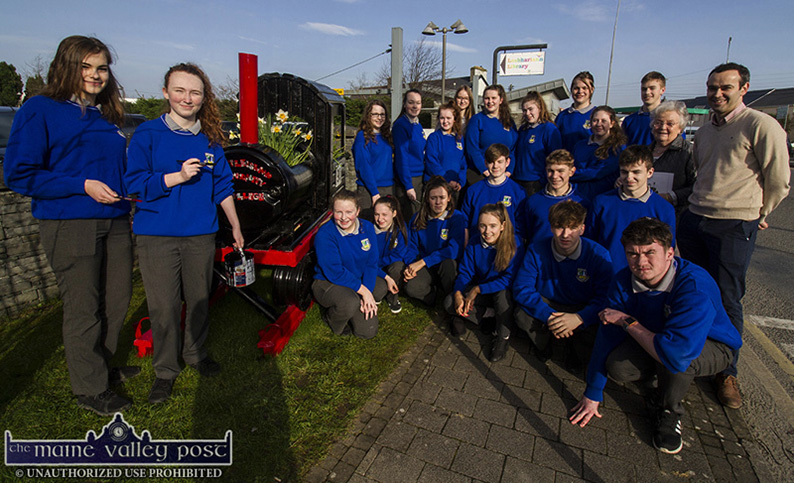 Transition Year students of Castleisland Community College, their teacher Aidan Joy and Sheila Hannon and Mary Walsh of Castleisland Tidy Towns are on track with their joint venture of reviving the 100 year history of the Castleisland Railway Station.
Engine No. 90
A model based on engine number 90 was created by the students at the college and is now situated at the site of long disappeared Castleisland Railway Station.
The Castleisland Railway Company was set up in 1872 as a result of local concerns that this thriving market town was bypassed by the Killarney/Tralee railway line.
Branch Line
A full-gauge branch line was authorised and a 4.5 mile branch line was soon constructed.
The first train left Castleisland on 6th September 1875. The Castleisland/Gortalea line holds a unique place in Irish railway history as it was the first 'light' railway line in Ireland.
A specially designed vehicle which combined both engine and coach was used in the early years.
The Great Fairs
It was capable of drawing up to 30 cattle trucks for the great fairs which were held in the town.
After the Great Southern and Western Railway Company took over the line in 1879 two more of these special vehicles were added.
All three were numbered 90, 91 and 92. Both passenger and goods services continued until January 1947.
On Short Lines
From 1957 the line was worked by a small four-wheeled Deutz diesel locomotive (No. G602) made for use on short lines. However, the decline of the fairs and competition from road freight resulted in a decline in rail traffic. The decision to close the line was made in November 1976 and the final blow was dealt in January 1977.
The Castleisland Community College Transition Year students built the train using Forest Stewardship Council (FCS) pressure treated timber which promotes responsible management of the world's forests.
Eco-Friendly Labels
The FSC does this by setting standards on forest products, along with certifying and labelling them as eco-friendly.
The wheels of the 'train' were donated by Tom Murphy's Garage, Farranfore whose daughter Julianne is presently in Transition Year with her sister Rachel in second year.
The wheels were cross braced in metalwood by welding a steel bar across them for support. The front barrel planter was donated from Christopher O'Sullivan's family farm in Currow.
Christopher a student in fifth year delivered the train from the school to its present position.
Old Goal Post Anchors
It is fixed to the ground using the school's old goal post anchors that are no longer needed with the school now having a brand new AstroTurf pitch instead.
A sign with the history of the railway station is presently being designed by Castleisland Tidy Towns and will be placed beside the train.
Aesthetic Addition
The train is certainly adding to the aesthetics of the town, the town's history and to promote FSC wood and paper.
Check out the FSC logo when buying any paper related items e.g. photocopying paper, envelopes and kitchen roll.
Well done to all involved agus mar a deireann an seanfhocal 'Ar scáth a chéile a mhaireann na daoine,'
You can contact The Maine Valley Post on…
Anyone in The Maine Valley Post catchment area who would like to send us news and captioned photographs for inclusion can send them to: jreidy@mainevalleypost.com 
Queries about advertising and any other matters regarding The Maine Valley Post can also be sent to that address or just ring: 087 23 59 467.
Please Note: A click on any of our adverts will reveal all you need to know about what our advertisers need to tell you.
Copyright Notice: The images and text which appear on The Maine Valley Post site remain the exclusive property of John Reidy, (unless stated otherwise) and are protected under International Copyright laws. Images or text may not be reproduced, copied, transmitted or manipulated without the written permission of the author, John Reidy, in this instance. Use of any image as the basis for another photographic concept or illustration (digital, artist rendering or alike) is a violation of International Copyright laws. All images are copyrighted by John Reidy 2018.