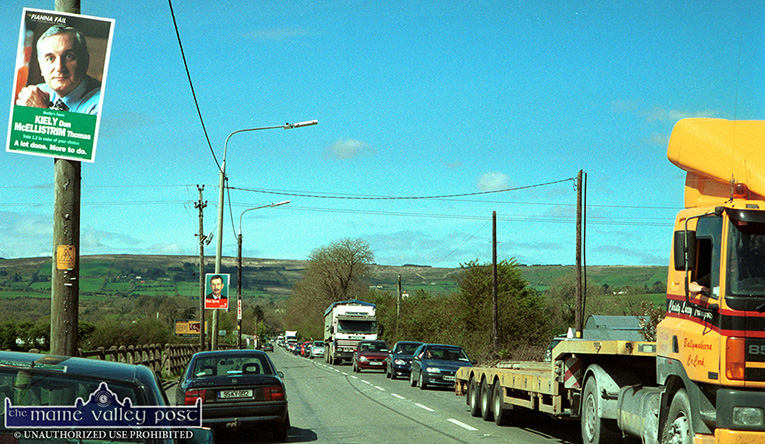 A few weeks ago a national campaign PosterFree.ie was launched, encouraging all candidates to go poster free, successfully securing 101 poster free areas.
This number equates to over 11% of 2018 Tidy Town entrants. PosterFree.ie is now calling for a national voluntary ban to ensure a poster free election. It is clear that both the environment and the
electorate want a poster free election.
Posters Banned
In a recent Claire Byrne Live/ Amárach Research poll, 77% of respondents said that they thought the use of posters during election campaigns should be banned.
Similar results were replicated across six other facebook and twitter polls averaging above 90% in favour of a poster free election.
Significant Traction
Since launch, the campaign has gained significant traction. In under 20 days the PosterFree launch video has been viewed over 27,500 times. PosterFree.ie has reached over 131,000
people online resulting in over 730 share and 575 website viewers. This generated five radio interviews and 22 online news articles, resulting in 101 areas and 19 candidates going poster
free.
€3M Bill for Posters
In 2014, 2038 candidates ran for 750 seats erecting an estimated 600,000+ posters, covering the equivalent area of 23 Croke Parks. It is estimated that in 2019 numbers will be similar.
These posters, in 2014, produced 366 tonnes of C02, the same as driving an average car non-stop for 592 days.
The estimated cost of the posters in 2014 was €3 million.
There have been calls from both candidates and the public to avoid spending this money worsening our climate crisis and to divert it to more pressing issues.
Safety Hazzard
Posters have been reported to be covering critical road signage, endangering our motorists. Cyclists have complained of posters being erected too low, blocking their path and putting them in
danger.
PosterFree.ie is a joint campaign by Séamus Maguire an Independent Donegal Councillor and David Weitbrecht of ZeroWaste.ie and they're encouraging all candidates to go poster free this May in both local and European elections. For more information visit PosterFree's Website: www.posterfree.ie
You can contact The Maine Valley Post on…
Anyone in The Maine Valley Post catchment area who would like to send us news and captioned photographs for inclusion can send them to: jreidy@mainevalleypost.com 
Queries about advertising and any other matters regarding The Maine Valley Post can also be sent to that address or just ring: 087 23 59 467.
Please Note: A click on any of our adverts will reveal all you need to know about what our advertisers need to tell you.
Copyright Notice: The images and text which appear on The Maine Valley Post site remain the exclusive property of John Reidy, (unless stated otherwise) and are protected under International Copyright laws. Images or text may not be reproduced, copied, transmitted or manipulated without the written permission of the author, John Reidy, in this instance. Use of any image as the basis for another photographic concept or illustration (digital, artist rendering or alike) is a violation of International Copyright laws. All images are copyrighted by John Reidy 2018.