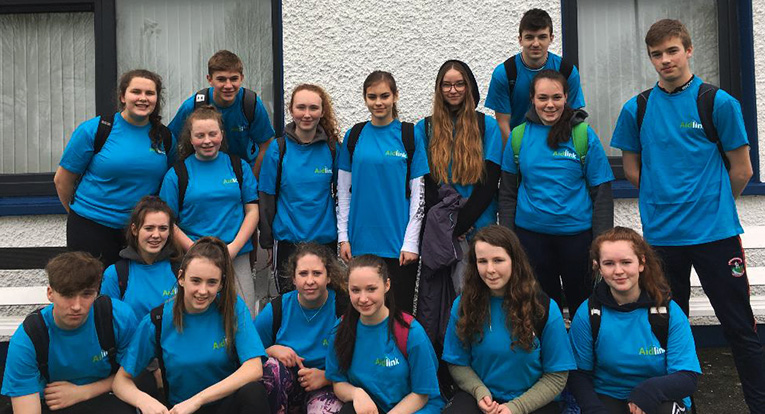 Castleisland Community College Transition Year students recently took part in the Aidlink's Walking for Water campaign.
They did so in solidarity with children and teenagers across the globe who have to undertake arduous journeys every day to collect water for their families.
World Water Day
"This action is one of many initiatives which took place around the world this spring to celebrate World Water Day," said college teacher, Doreen Killington.
"The impact of climate change means that the rainy season is delayed and water is scarce.
"In some parts of Kenya, children walk an average of six kilometres per day to collect water, carrying up to 20 litres of water on their journey.
A Cycle of Poverty
"These children, usually girls, are unable to remain in school and without education they find themselves trapped in a cycle of poverty.
"Unfortunately, the water the Kenyan children collect is often unclean, contributing to a situation where 2,000 children are sick every day from diseases associated with lack of access to safe drinking water and sanitation facilities.
Kenyan Counterparts
"Ending the water and sanitation crisis will help break the poverty cycle, increase school attendance and save lives.
"The Walk for Water initiative helps Irish students relate to the challenges faced by their Kenyan counterparts and offers an opportunity for reflection and learning.
Learn more about the Aidlink campaign with a click on the link here: http://aidlink.ie/wash/
You can contact The Maine Valley Post on…
Anyone in The Maine Valley Post catchment area who would like to send us news and captioned photographs for inclusion can send them to: jreidy@mainevalleypost.com 
Queries about advertising and any other matters regarding The Maine Valley Post can also be sent to that address or just ring: 087 23 59 467.
Please Note: A click on any of our adverts will reveal all you need to know about what our advertisers need to tell you.
Copyright Notice: The images and text which appear on The Maine Valley Post site remain the exclusive property of John Reidy, (unless stated otherwise) and are protected under International Copyright laws. Images or text may not be reproduced, copied, transmitted or manipulated without the written permission of the author, John Reidy, in this instance. Use of any image as the basis for another photographic concept or illustration (digital, artist rendering or alike) is a violation of International Copyright laws. All images are copyrighted by John Reidy 2018.