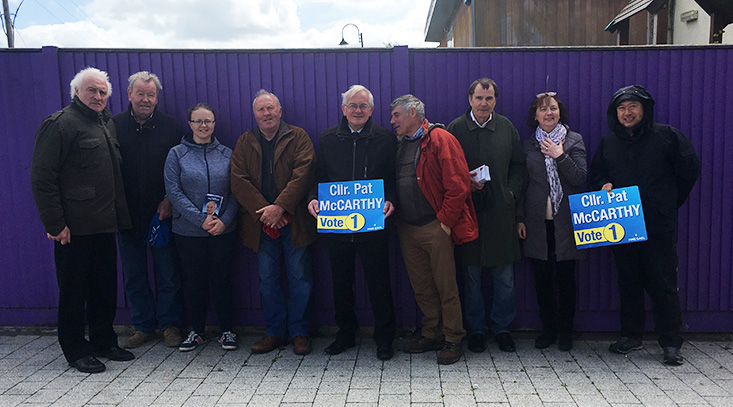 On a warm Easter Sunday, a large crowd enjoyed the local hospitality at Cllr. Pat McCarthy's Local Election get-together in The Half Way Bar in Ballymacelligott.
Seán Kelly MEP Guest
Sean Kelly, MEP was the guest speaker on the occasion and he outlined Pat's career to date in Kerry.
Cllr. McCarthy was first elected for the 1994-1999 term to Tralee Town Council and subsequently in 2004 to the present day to Kerry County Council.
The Kilcummin native MEP then spoke of Cllr. McCarthy's work and support in the community and surrounding areas and stressed the importance of experience that Pat has on the council.
Valued and Supported
He stressed that it is something that should be valued and supported on the day of the election.
He also outlined that Pat and Cllr. Bobby O'Connell from Castleisland are two strong candidates, with proven track records.
Pat thanked Seán Kelly and wished him well in his European Election bid and he also expressed his appreciation to everyone who has helped out to date on the canvassing trail-close to 90% of the area covered with just over three weeks to go.
From Near and Far
Cllr. McCarthy welcomed all those present from near and far. The gathering included locals from: Ballymac; Lixnaw; Brosna, and Cape Cod.
He stressed that he and Cllr. O'Connell are among seven confirmed candidates who will be battling for four seats, it is going to be tough to get over the line – but they are going to do their best to get two seats
Wished All Candidates Well
He wished all the seven candidates well, thanked the three cooks: David, Mike and Tom for a fine barbecue.
The crowd enjoyed the music well into the night.
"The music from Noel Mac and Len Casey turned out to be top drawer stuff. Along with a few spot prizes thrown in along the way and a fine lively crowd, the night turned out to be a right humdinger," said a member of the organising group.
To find out more about Cllr. Pat McCarthy's Local Election Campaign you can click on the link here: https://www.finegael.ie/our-people/councillors/kerry/tralee/pat-mccarthy/
You can contact The Maine Valley Post on…Anyone in The Maine Valley Post catchment area who would like to send us news and captioned photographs for inclusion can send them to: jreidy@mainevalleypost.com 
Queries about advertising and any other matters regarding The Maine Valley Post can also be sent to that address or just ring: 087 23 59 467.
Please Note: A click on any of our adverts will reveal all you need to know about what our advertisers need to tell you.
Copyright Notice: The images and text which appear on The Maine Valley Post site remain the exclusive property of John Reidy, (unless stated otherwise) and are protected under International Copyright laws. Images or text may not be reproduced, copied, transmitted or manipulated without the written permission of the author, John Reidy, in this instance. Use of any image as the basis for another photographic concept or illustration (digital, artist rendering or alike) is a violation of International Copyright laws. All images are copyrighted by John Reidy 2018.