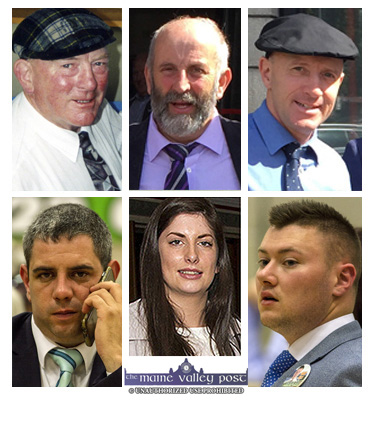 They're one of the the hardest working political families in the whole of Ireland.
Their attention to detail and to the needs of the people of their now sprawling constituencies are truly legendary.
And, in case you didn't get your fill of Healy Rae canvassing, mantra and posters up to this time last week, you're in for a treat on tonight's Late Late Show.
Ryan Tubridy has invited Kerry's and probably Ireland's 'first family' of politics to sit and talk electoral success on a grand and unprecedented scale with the second and third generations of the Healy Rae, Kilgarvan dynasty.
Modern Political Dynasty
Michael Healy-Rae, TD;  Danny Healy-Rae, TD;  Cllr. Johnny Healy-Rae, Cllr. Maura Healy-Rae and Cllr. Jackie Healy-Rae Jr will be in studio to discuss the modern political dynasty started by Jackie Healy-Rae and why the family political machine is so successful.
If you could mint that !
Final Show 'til Autumn
Tonight's is the final Late Late Show until the autumn schedule and if all of the people who voted for all of the Healy Raes third wave, will sit down to watch the show it will surely reach new viewership ratings as it heads into its summer recess.
The Late Late Show is on RTÉ One tonight at 9:35pm.
You can contact The Maine Valley Post on…Anyone in The Maine Valley Post catchment area who would like to send us news and captioned photographs for inclusion can send them to: jreidy@mainevalleypost.com 
Queries about advertising and any other matters regarding The Maine Valley Post can also be sent to that address or just ring: 087 23 59 467.
Please Note: A click on any of our adverts will reveal all you need to know about what our advertisers need to tell you.
Copyright Notice: The images and text which appear on The Maine Valley Post site remain the exclusive property of John Reidy, (unless stated otherwise) and are protected under International Copyright laws. Images or text may not be reproduced, copied, transmitted or manipulated without the written permission of the author, John Reidy, in this instance. Use of any image as the basis for another photographic concept or illustration (digital, artist rendering or alike) is a violation of International Copyright laws. All images are copyrighted by John Reidy 2018.