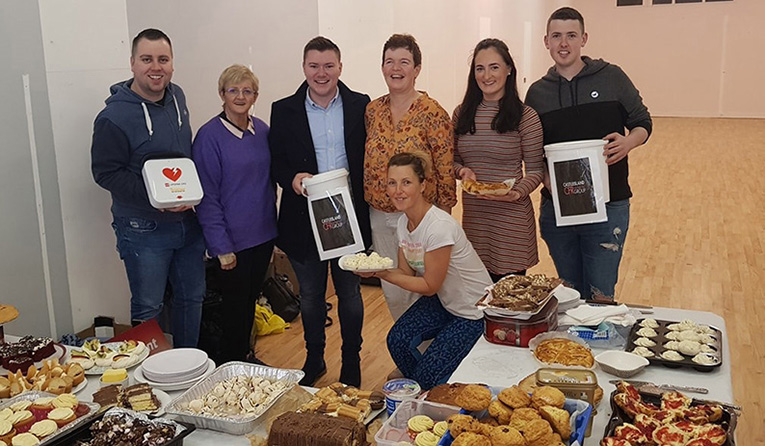 Founders of the almost up and running Castleisland First Responders Unit are extremely grateful to the members of the public who supported their first fundraiser on Saturday morning.
"We would like to extend a heart felt thanks to all who came to support us on Saturday," said Neil Browne one of the people behind the welcome initiative.
Support and Interest
"As a committee we're delighted with the response, the support and the interest shown.
"It was very promising and was wonderful to see the community getting behind the initiative.
"The generosity of the people never fails to surprise us," said Neil.
Another founder member of the unit, Andrew Foran said that they owe the expertise they're gaining on behalf of the community to the likes of Denis Kerins and Eamonn O'Connor.
Willingness to Help
"In fairness to the two of them we couldn't get it up and running without them and their willingness to help us at every turn. They're starting training eight more volunteer responders this weekend.
"We're really delighted with the response to what we're doing here. It's for the good of the whole community without exeption.
Fundraising Ideas Welcome
"We took in a bit over €1,500 at Saturday's coffee morning and while it will take more that that to get the unit properly equiped and 'on the street' we have promises of further funding which we hope will come through.
"We'd be delighted if people would donate to us or hold fund-raising events of their own to help with the setting up of the unit and we're looking at other ideas for the future as well," said Andrew.
Business and Political Support
The event was attended and supported by local politicians: Cllr. Bobby O'Connell, Cllr. Charlie Farrelly, Cllr. Jackie Healy Rae and his father, Michael Healy Rae, TD. And significantly supported by Tomo Burke Electrical in whose former premises at No. 32 Main Street the event was held.
You can contact The Maine Valley Post on…Anyone in The Maine Valley Post catchment area who would like to send us news and captioned photographs for inclusion can send them to: jreidy@mainevalleypost.com 
Queries about advertising and any other matters regarding The Maine Valley Post can also be sent to that address or just ring: 087 23 59 467.
Please Note: A click on any of our adverts will reveal all you need to know about what our advertisers need to tell you.
Copyright Notice: The images and text which appear on The Maine Valley Post site remain the exclusive property of John Reidy, (unless stated otherwise) and are protected under International Copyright laws. Images or text may not be reproduced, copied, transmitted or manipulated without the written permission of the author, John Reidy, in this instance. Use of any image as the basis for another photographic concept or illustration (digital, artist rendering or alike) is a violation of International Copyright laws. All images are copyrighted by John Reidy 2018.