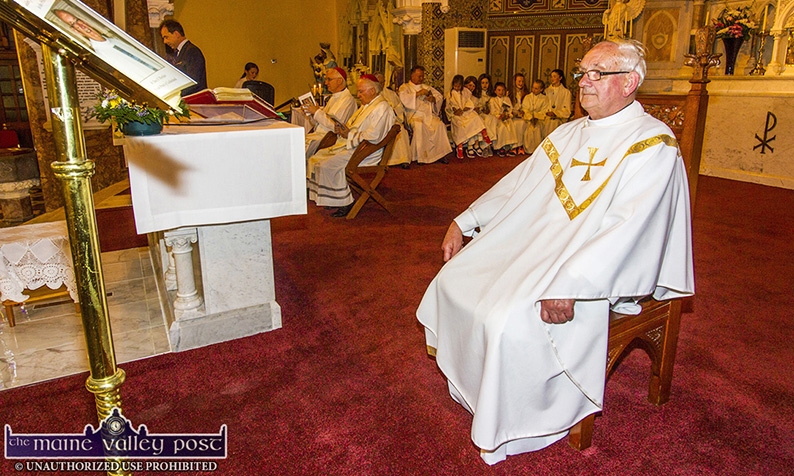 An official statement was issued earlier today by the Castleisland Parish Office with the news that Monsignor Dan O'Riordan's official duties as a Parish Priest will conclude with the Vigil Mass on Saturday, July 13th.
As a preamble to the statement, the office also provided some background on 'Fr. Dan's' career.
"Fr. Dan's retirement comes as a culmination of a career which, after his ordination in Killarney in June 1968, saw him spend a year in Rathmore followed by 25 years in St. Brendan's College, Killarney and 12 years in Tralee where he was appointed Dean of Kerry.
God's Work in Castleisland
"This road lead him finally to Castleisland, where he has being doing God's work for 11 years.
"He has the great gift of being an excellent priest. He balances the important religious aspects of his vocation with a great organisational brain and a gift for getting on with people.
"We will miss him sorely.
"He is moving to his ancestral home in Crosstown, outside Killarney. We do not know who is replacing him yet, although we should be hearing soon.
Special Occasion Gathering
An invitation has been issued by the parish office for parishioners to gather on a special occasion.
"We are saying farewell to Fr. Dan O'Riordan in July and the Castleisland Parish Council members are organising a thank you gift for Fr. Dan on his retirement.
"This is to recognise and honour both his 11 years in our parish as well as his 51 years in the service of the church.
Celebrating Vigil Mass
"Fr Dan's final celebration of Mass, in his role of Castleisland Parish Priest, will be the Vigil Mass on Saturday the 13th of July at St Stephen and John's Church at 6.15pm.
This will be immediately followed by light refreshments and food in St John's Hall – the Presentation Secondary School Hall and everyone is welcome to attend," the statement concluded.
The statement was issued with the approval of the following members of the council: John Breen, John Flaherty, Con Moynihan, Renee McCarthy, Mary McGaley, Sheila McSweeney, Emer Nelligan, Deacon Thady O'Connor, Martina O'Donoghue and Jack Shanahan, Chairman.
Golden Jubilee in 2018
This time last year Fr. Dan celebrated the golden jubilee of his ordination with a gathering of colleagues and friends at the River Island Hotel followed by a special mass at the Church of Saints Stephen and John in Castleisland.
On that occasion he remarked that because so many people had travelled very long distances to be there on his big day, he relented to going ahead with it. He had hoped it would pass him by and go unnoticed.
Contribute to Parish Gift
All who wish to contribute to the parish gift to Fr. Dan can do so in person to the office or by post in an envelope addressed to: Castleisland Parish Office, Castleisland Parish Council, C/o Castleisland Parish Office, Church St. Castleisland.
Fr. Dan's 2018 Golden Jubilee ceremony can be found and viewed with a click on the link here: https://www.churchservices.tv/castleisland/archive/recordings/dBjzchL1KbDTrGW
You can contact The Maine Valley Post on…Anyone in The Maine Valley Post catchment area who would like to send us news and captioned photographs for inclusion can send them to: jreidy@mainevalleypost.com 
Queries about advertising and any other matters regarding The Maine Valley Post can also be sent to that address or just ring: 087 23 59 467.
Please Note: A click on any of our adverts will reveal all you need to know about what our advertisers need to tell you.
Copyright Notice: The images and text which appear on The Maine Valley Post site remain the exclusive property of John Reidy, (unless stated otherwise) and are protected under International Copyright laws. Images or text may not be reproduced, copied, transmitted or manipulated without the written permission of the author, John Reidy, in this instance. Use of any image as the basis for another photographic concept or illustration (digital, artist rendering or alike) is a violation of International Copyright laws. All images are copyrighted by John Reidy 2018.