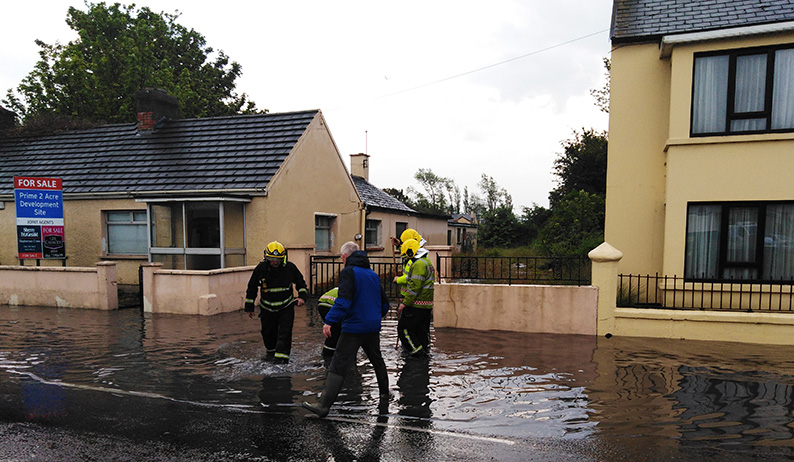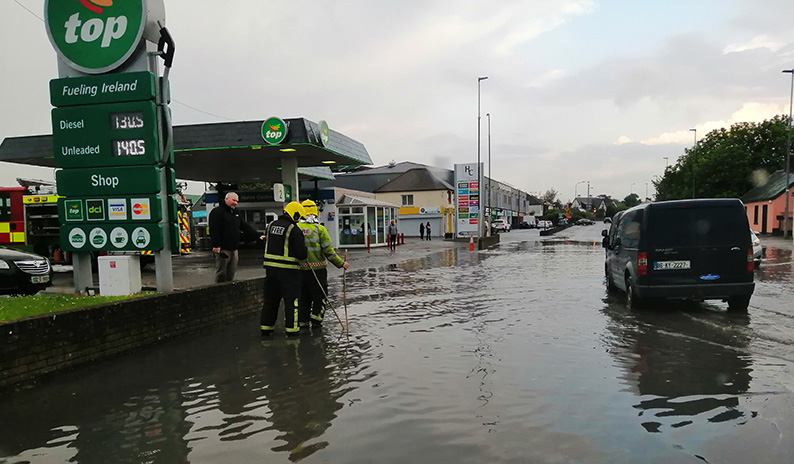 If you think the downpour we got here in Castleisland this evening was bad, spare a thought for our neighbours in the Boherbue area of Tralee.
So flash and so heavy was the rain there that it flooded the unfortunate people in their homes and bubbled up on the street outside their doors and all playing out under a dark and thunderous sky.
Chipped In and Helped Out
Neighbours in the area chipped in and did their best to help each other and they also joined with the firemen in trying to free manholes and gully traps.
That kind of flash flooding was in the forecast by Met Éireann for today as you'll see below.
It Falls Different 
That the worst is behind us now will be of little consolation to those who failed to keep the water out of their homes this evening.
And you'll hear people saying: 'It falls different this time of the year – the rain.'  And they're right – it certainly does.
There were two distinct lines across the road between Tralee and Castleisland. A stretch, entirely in Ballymacelligott, was bone dry in contrast to the rest of the trip out from Tralee and again before coming into a drenched Castleisland.
The forecast is as follows and today's is included:
Today
Further heavy and thundery downpours over parts of Munster this evening, particularly frequent over parts of Cork and Kerry with some local spot flooding here. Elsewhere the showers more isolated. Winds mainly light northeasterly or variable in direction but moderate to fresh near northwest coasts.
Tonight
Showers will die away tonight and it will become mainly dry with clear spells. Mist and fog patches will form overnight. Lows of 10 to 14 degrees in mainly light northeast breezes, moderate near some coasts.
Tomorrow
Most places will hold dry with spells of warm sunshine developing through the afternoon and evening. A humid day, with highs of 20 to 24 degrees, but a little cooler along northern and eastern coasts in the onshore light to moderate northeasterly breezes, which will freshen along southern and western coasts later in the day.
You can contact The Maine Valley Post on…Anyone in The Maine Valley Post catchment area who would like to send us news and captioned photographs for inclusion can send them to: jreidy@mainevalleypost.com 
Queries about advertising and any other matters regarding The Maine Valley Post can also be sent to that address or just ring: 087 23 59 467.
Please Note: A click on any of our adverts will reveal all you need to know about what our advertisers need to tell you.
Copyright Notice: The images and text which appear on The Maine Valley Post site remain the exclusive property of John Reidy, (unless stated otherwise) and are protected under International Copyright laws. Images or text may not be reproduced, copied, transmitted or manipulated without the written permission of the author, John Reidy, in this instance. Use of any image as the basis for another photographic concept or illustration (digital, artist rendering or alike) is a violation of International Copyright laws. All images are copyrighted by John Reidy 2018.