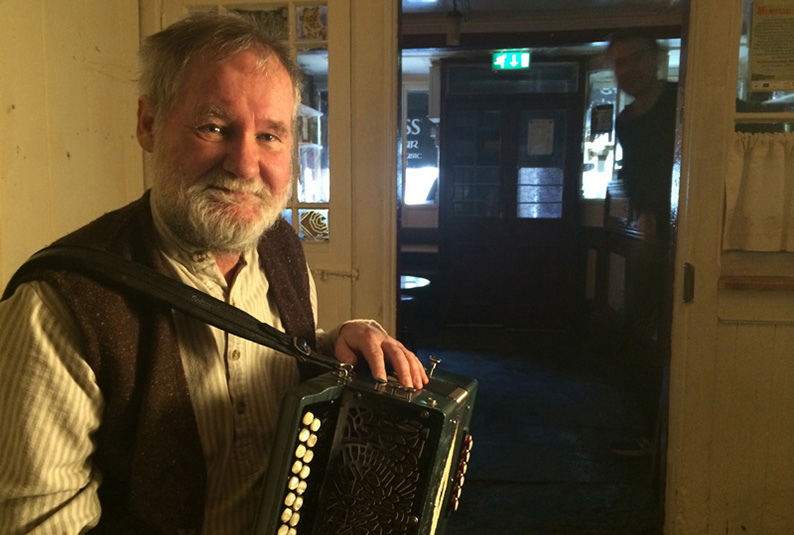 The Castleisland based Patrick O'Keeffe Traditional Music Festival has just launched its online tickets sale initiative for the 27th annual festival which runs this year from Friday, October 25th to Monday 28th inclusive.
By Conor O'Mahony
The special 'Early Bird Weekend Pass' will give patrons access to all the events that run over the course of the four day festival.
These include: Téada and Séamus Begley with special guests: Aidan Connolly, John Daly and Jack Talty. Derek Hickey, Catherine McHugh and Macdara O'Faoláin. Nicky and Anne McAuliffe receiving a presentation in honour of their Gradam Ceol Award.
The Jackie Daly Lifetime Achievement Concert featuring Buttons and Bows, Niamh Parsons, Matt Cranitch, Paudie O'Connor and Aoife Ní Chaoimh, Patsy Broderick, Timmy Connors, Paul de Grae, Caoimhe and Éimhear Flannery.
Talks and Masterclasses
Attendees will also receive entry to the 'Launch Event' which is a talk by Matt Cranitch on Patrick O'Keeffe featuring: Paddy Jones, Maida Sugrue, and Martin O'Connor.
Admittance to Masterclasses on one of the following instruments- Accordion, fiddle, banjo, concertina, flute, uileann pipes or singing.
Fiddle Recital and Singing Concert
Vistitors who avail of the weekend pass will also receive free entry to the Sliabh Luachra Fiddle Recital hosted by Matt Cranitch and featuring the areas top fiddle players. The hugely popular singing concert which this year will be headlined by Niamh Parsons, Ger O'Donnell, Mickey MacConnell, Tim Dennehy and Catriona Ní Cheannabháin
Album Launches
The hugely talented Aidan Connolly will be launching his new album alongside musical comrades John Daly and Jack Talty.
Aidan's playing style has been hugely influenced by the playing of the great Paddy Cronin. Aidan met and played with Paddy many times on visits to Kerry to meet Connie Moynihan his uncle. Derek Hickey is launching his new album at the festival. Derek is accompanied by Catherine McHugh and Macdara Ó Faoláin on this new venture.
It is no secret that over the last couple of years Derek has been going through something of a purple patch.
Rumours abound that the West Limerick man may be on the cusp of a Gradam Ceol award sooner rather than later.
Recently described by Dan Brouder as 'Not only the best of his generation, but in my opinion probably one of the best of all time … massive influence on me,'
Sepearately the great accordion player  Martin Donohue has said 'I've heard the future and it was not good, it was unreal brilliance, in relation to Hickey's new album.
Famous Pub Trail
As always, the majority of the events over the course of the weekend remain free to enter.
The renowned 'Pub Trail' returns and is brimming with talent both young an old.
The Pop Up Gaeltacht will this year take place in La Bodega River Island hotel and is hosted by Éamonn Ó Braoin and Tomas Mac Uileagóid.
The singing concert featuring the best of traditional fare is free to enter as always. The ever popular 'Poetry Extravaganza with Gabriel Fitzmaurice is returning again this year.
Children's Session with Sheila
Local musician Sheila Heery will be hosting a children's music session in what used to be Tomo Burke's on Castleisland's Main Street.
This event is open to parents and children who would like to play in a relaxed setting away from the hustle and bustle of the pub. This event will take place on the Saturday at 3pm.
Talks and Sliabh Luachra Workshops
Festival founding member Peter Browne will be hosting a lecture on the music of Sliabh Luachra down through the years.
Sliabh Luachra Traditional Musician in Residence Eoin Stan O'Sullivan will be hosting a Sliabh Luachra Music workshop.
This will consist of Eoin talking about the local music of the area, as well as teaching the attendees some tunes.
Two Concerts For €30
For just €30 patrons can gain entry to both the Saturday night concert with Téada and Seamus Begley and Sunday night Jackie Daly Lifetime Achievement Concert.
This special offer is limited to the first 50 tickets bought.
For more information you  can log onto the new festival website at: http://patrickokeeffefestival.com/?page_id=684
For more information on festival's class tutors just click on the link here: http://patrickokeeffefestival.com/?page_id=1039