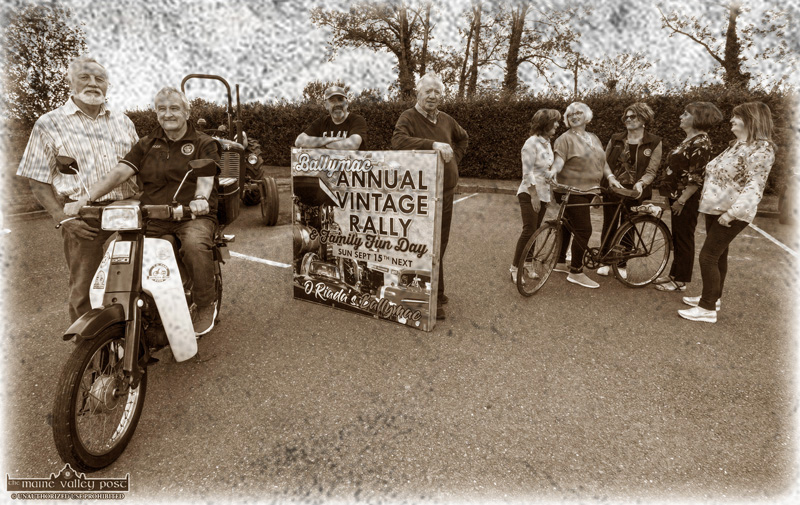 Buoyed by the great success of their inaugural vintage rally and family fun day last year, the hard working committee members of Ballymacelligott Vintage Club are planning a repeat performance for Sunday, September 15th in the field adjacent to Ó Riadas Bar and Restaurant.
By Noel Keane
Great thanks and appreciation is extended to all the Reidy family for so generously making their spacious grounds and field available again this year.
The four national schools of the parish will benefit financially from the event and a special effort is being made to give the children of the schools and beyond, an appreciation of how farming was done in times past.
Less Mechanised Methods
Demonstrations of more labour intensive and less mechanised methods of saving and harvesting the crops with hand tools and horse machinery will be displayed.
The club is blessed to have, as one of it's members, James Conway, grandson of the great Billy Mason. James will have his large and very rare steam tractor that was built at the start of the nineteen hundreds and lovingly restored by himself, powering a threshing mill.
His granddad's, likewise great and rare steam tractor, will be on display.
A Surprise Exhibit
He plans to also have a surprise large exhibit working on the day, powered by the steam tractor. Along with examples of the many smaller tractors built in the fifties, sixties and seventies, some beautifully restored and polished vintage and classic cars will feature.
Of course, no vintage rally and family fun day would be complete without the many side shows specially laid on, as an aside from the vintage exhibits.
Popular Train Ride
Bouncy castles, face painting and that little train ride that proved so popular last year, will bring laughter and happiness to the children present on the day.
Even the little toddlers will be catered for, in a specially set aside space where moms and dads can sit and chat. Tea and coffee as well as sandwiches and confectionery will be available in the marquee.
The Return of Big Jim

Broadcasting his great music choices and banter, to really brighten the atmosphere, will be Big Jim, who is back again by popular demand.
He will also cover events like the dog show, which also proved to be such a success last year.
Special thanks has to be extended to our sponsors and without their generous help, the day would not be possible.
Free Shuttle Bus
A free shuttle bus service will be available to transport families from Tralee and Castleisland to the Rally and home again afterwards.
All in all, the committee has left no stone unturned in their great efforts to make this a wonderful day out and hopefully the weather will oblige also.
To keep up with the nuts and bolts of the rally you can do so with the following link: https://www.facebook.com/ballymacvintage/